For Budget
AW54OPN
Solid mahogany top and mahogany back and sides for a full, warm sound
Unique and captivating "pre-war" style
High-quality for an affordable price
Editor's Choice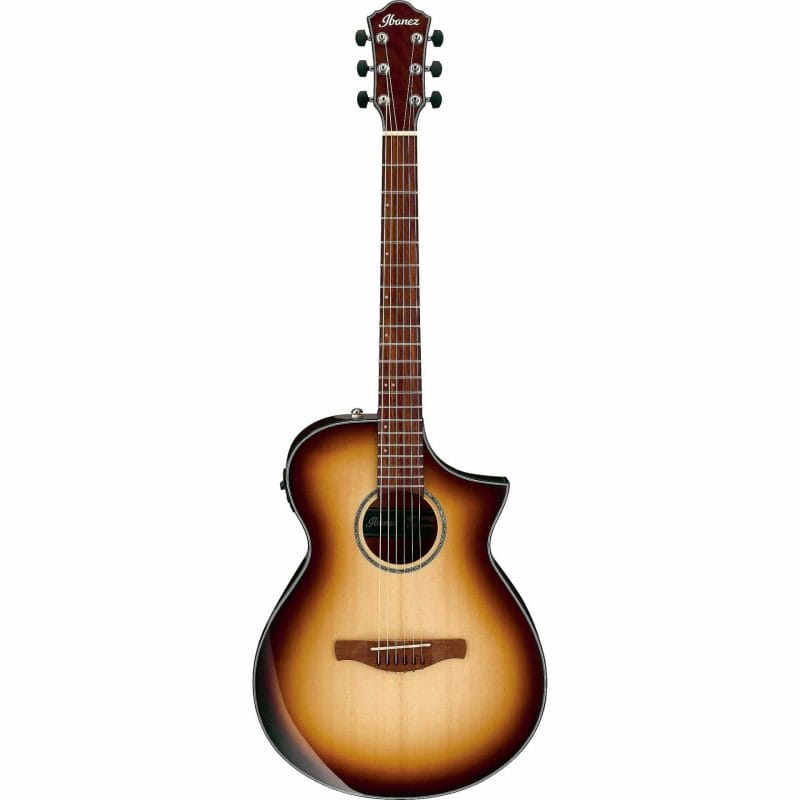 AEWC300
Perfect guitar for musicians who want to push their playing to new levels
Always be ready to play anywhere, anytime
This guitar is easy to play
For Shredders
ALT30
It's a great practice guitar for electric guitar players
It's a guitar that can handle speed and shredding
It's an excellent guitar for the price
Are Ibanez Acoustic Guitars Good?
I'm a guitarist who loves to experiment with different playing styles.
Traditional acoustic guitar brands fill the need for most guitarists. However, they don't always offer the flexibility that some players need to feel like they can express themselves on guitar.
This is where Ibanez really shines as a guitar manufacturer.
But I get it, Ibanez acoustics are not the most popular acoustic guitars on the market.
This is because they are overlooked for their more mainstream counterparts, Taylor Guitars and Martin Guitars. However, suppose you're looking to take your guitar playing in different directions or just want something that feels slightly different from what you've played before. In that case, this is where Ibanez really shines.
In this Ibanez acoustic guitars review, I'll help open your mind to what Ibanez has to offer, no matter your needs or what kind of guitarist you are.
Let's dive in!
The Best Ibanez Acoustic Guitars at a Glance
Editor's Choice: AEWC300
Best for Budget: AW54OPN
Best for Recording: AC340OPN
Best for Gigging: AEG200
Best for Fingerstyle: PA230E
Best for Flatpicking and Strumming: AAD300CE
Best for Electric Guitar Players: Alt30
Editor's Choice: AEWC300
Editor's Choice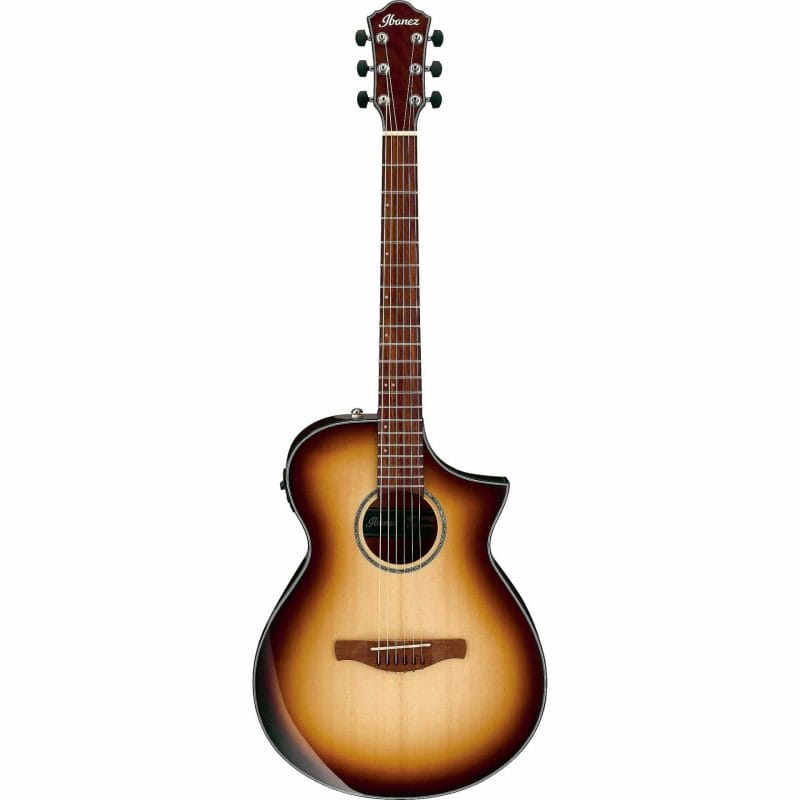 Great for live performances or noodling at home
It's the perfect blend of tradition and modernity
The guitar feels good in your hands
The solid spruce top has a more resonant and bold tone
The AEWC300 is an elegant balance of tradition and modernity. This Ibanez acoustic guitar is for musicians looking to push their acoustic playing into more alternative styles.
The slim body, beveled armrest, jumbo frets, mahogany neck, and asymmetrical walnut fingerboard make playing your favorite song at home or on stage easy. While the extreme florentine cutaway brings no limitations to the upper frets of the guitar.
This Ibanez acoustic is also very reasonably priced, considering it's built with a solid spruce top that has excellent dynamics and a bold tone. While the flamed maple back and sides add a beautiful aesthetic to the overall guitar.
The AEWC300 is a perfect choice for performers on the move. With the AEQ-SP2 pickup, Fishman Sonicore pickup, and onboard tuner, you'll be able to plug in and sound great no matter where you end up.
Best for Budget: AW54OPN
Best for Budget
A high-quality guitar for an affordable price
Great projection and warm tone
Classic vintage "pre-war" style
The Ibanez AW54OPN is the best acoustic guitar for players on a budget. It comes with classic features that will impress anyone regardless of their style or experience level.
The dreadnought body style is a classic. There's a great projection from the guitar. At the same time, the solid mahogany top and mahogany back and sides will give you the rich, full sound that so many other guitars in its price point lack.
This guitar has a unique and captivating "pre-war" appearance that will stand out in any setting. It doesn't come with electronics, though, so if you wish to play out on the town, you will have to invest a little more to have a pickup installed.
All in all, whether you're just starting off or are looking for a great travel guitar, the AW54OPN is an excellent choice for a great price!
Best for Recording: AC340OPN
Best for Recording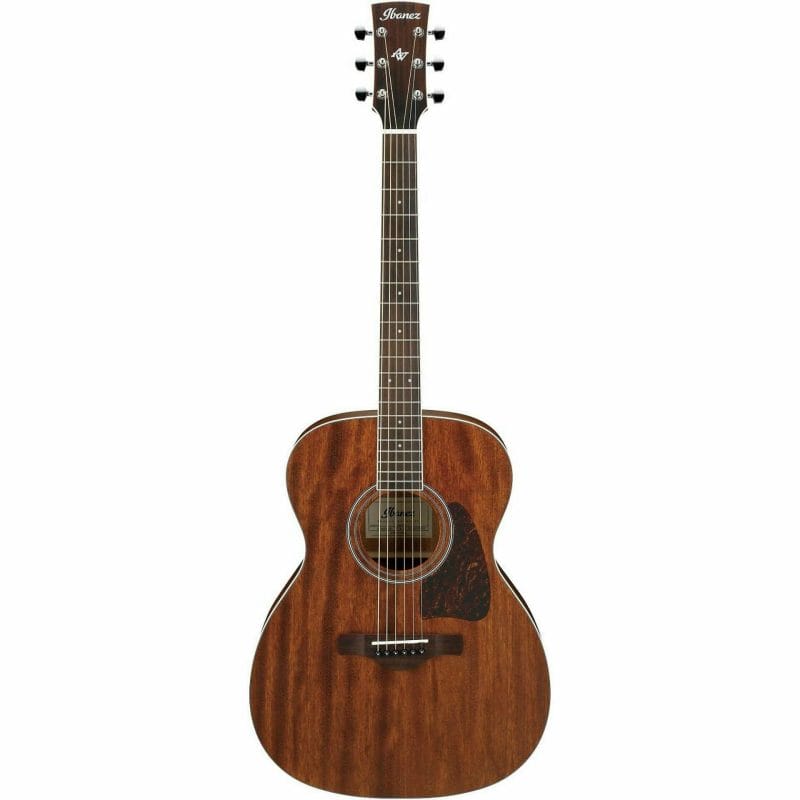 Get great recordings for a low price
Tuning is consistent and reliable
Solid Okoume top wood provides a warm and woody tone that will only sound better with age
The Ibanez AC340OPN is an excellent low-cost guitar for recording.
It has a natural compression from its Okoume body that helps even out overly dynamic playing. The grand concert body adds an articulate and focused tone loved by recording engineers.
The guitar's tone also has a subtle sweetness with its Thermo Aged bridge and genuine bone nut and saddle. While the chrome die-cast tuners provide consistent intonation, you can be sure there are no wonky tuning issues as you play up and down the neck.
Suppose you are a home-studio musician wanting solid value and great recordings. In that case, the AC340OPN is the guitar you should highly consider.
Best for Gigging: AEG200
Best for Gigging
You can play it all night without much discomfort
Sounds great when amplified
Doesn't feedback easily
The AEG200 is an acoustic-electric guitar with a streamlined body design for comfortable performance, allowing you to play all night without any discomfort while avoiding nasty feedback.
It features a Sitka spruce top paired with Okoume back and sides. This produces a surprisingly wonderfully articulate amplified tone when playing through its AEQ-TTS preamp and Ibanez T-Bar II under-saddle pickup.
Ibanez Advantage bridge pins keep strings in place during performances. At the same time, the Nyatoh neck and ovangkol fingerboard plays easy and feels good on your hands.
Its shorter-scale length provides an overall "slinky" string tension, which requires less effort to play.
If you're looking for an affordable, short-scale quality guitar to plug in and play on your next gig, then the AEG200 should be on your short-list!
Best for Fingerstyle: PA230E
Best for Fingerstyle

The solid cedar top provides a reliable response from a light touch
Glassy highs with a present mid-range and balanced low-end sound
The jumbo body creates big, resonating tones
Comes with a gig bag
The PA230E is the best Ibanez acoustic guitar for fingerstyle players. It features a solid cedar top, Okoume back, and sides that respond well to lighter playing styles.
How does it sound? Glassy highs with a present mid-range as well as a balanced low end!
The PA230E has a 5-piece African Mahogany/Pau Ferro neck that delivers outstanding response and playability while still providing a wonderful tone.
This Ibanez acoustic guitar also comes with a jumbo body that brings out a gorgeous resonance and depth. At the same time, the 25.75″ scale length will provide the proper string tension for alternative tunings.
If you dig the feel of guitars from Martin or Taylor, you will absolutely love what Ibanez has done here!
Being a fingerstyle guitarist myself, I am always looking for brands that make a great guitar for this purpose. If this type of guitar resonates with you, please check out my article "The Best Fingerstyle Guitars for Acoustic Players and Songwriters"
Best for Flatpicking and Strumming: AAD300CE
Best for Flatpicking and Strumming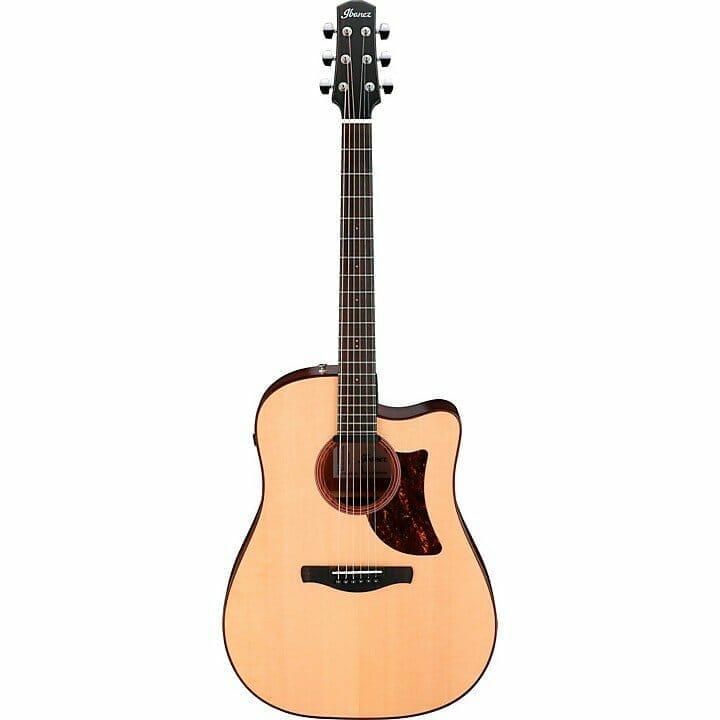 A loud, powerful tone
Smooth playability
The perfect instrument for any stage performer


The Ibanez AAD300CE is an acoustic guitar that is built to be loud! Dreadnought body guitars are already known for cutting through a dense mix, and Ibanez decided to make this one 5% bigger.
The solid Sitka spruce top and Okoume back and sides sound very close to the traditional tonewood combination of solid spruce and solid mahogany back and sides. This combo provides a very dynamic and resonant style guitar. Great for bluegrass, country, and pop guitar players.
However, Ibanez has made other improvements on the traditional Dreadnought to be more playable for various playing styles. The low-oval grip makes the neck seem utterly natural to your hands, and you can play chords or lead lines with ease.
Also, this guitar is very lightweight for a guitar of this size and tone!
Best for Electric Guitar Players: Alt30
Best for Electric Guitar Players
It can handle speed and shredding like no other acoustic guitar
Easy transition for electric guitar players
Has a smooth and easy to play neck
Comes with the iconic Ibanez electric guitar headstock
The Ibanez ALT30 is for electric guitar players who want an acoustic that can handle speed and shredding.
The satin-backed maple neck and smooth laurel fretboard are a joy to play and easy on your fingers as you hammer out arpeggios.
This guitar has a shallow 15.7″ radius on the fingerboard, enabling maximum lead potential not found on many other acoustic guitar models of any brand.
Another feature to highlight with the Alt30 is the neck joint is at the 16th fret rather than the 12th. This gives you the freedom to access any part of the guitar's neck without restriction.
This model also features an affordable price tag that will please any budget-conscious guitarist.
The Ibanez Acoustic Guitar Buying Guide
Ibanez guitars are most associated with their ability to shred. This comes from having really fast, flat necks. So while Ibanez is no stranger to the electric guitar, they are often overlooked for producing acoustic guitars.
So when looking for the best Ibanez acoustic guitars, you need to be looking at the lineup a little differently than your traditional acoustic guitar brands like Taylor or Martin.
Ibanez has genuinely unique and innovative ideas for the guitarist who experiment with alternative playing styles on guitar. The following section should help you discern what might be the best Ibanez acoustic guitar for you.
If you're new to guitar, keep an open mind as Ibanez will not be the first brand you discover on forums for the best acoustic to buy. However, when you do a little research, you'll see that Ibanez does make some great acoustic guitars for beginner and intermediate players.
The Ibanez Acoustic Series
Here's a quick breakdown of the Ibanez acoustics series and what kind of guitarist they'll best suit.
Advanced Acoustics
The Ibanez Advanced Acoustics series is the reimagined take on the classic dreadnought body shape.
Ibanez calls the Advanced Acoustics lineup of guitars the "Super Dreadnought," which takes an already dynamic and bold toned body shape and pushes it to the extremes.
This guitar series produces loud guitars with a focused low end, brilliant highs, and clear projection.
If you're a guitar player looking for something that will cut through a busy mix and fill a large room, then the Advanced Acoustics series is for you.
Popular Ibanez Advanced Acoustic:
Artwood
The Ibanez Artwood series takes a modern approach to a vintage "pre-war" guitar but still retains a traditional acoustic sound. These guitars are easy on the eyes and will never go out of style.
Traditionalist guitar players with an eye for detail love these guitars for their uncomplicated design, excellent price tag, and quality tone.
The Artwood series is Ibanez's most conservative acoustic stylings. The fact that it has a mahogany body with solid top wood makes it a steal for a budget guitar.
Popular Ibanez Artwood Guitars:
PF
Ibanez PF acoustic guitars are an excellent option for new guitarists looking for an affordable first guitar.
This series comes in a wide variety of shapes and sizes that will suit the needs of any beginning guitarist. Whether you're looking for a dreadnought, concert, auditorium, or parlor guitar- there's something for everyone.
One of the drawbacks to these series of guitars is that they're made of laminated wood rather than solid wood, so the tone will suffer slightly.
If you're looking to buy your first guitar, then a PF series acoustic guitar will provide you with a playable and durable guitar.
Popular Ibanez PF Guitars:
AE
The Ibanez AE series acoustic-electric guitar has a beautiful, solid top wood (either Solid Sitka spruce or solid Okoume) with gorgeous flamed Okoume back and sides. It offers the best of both worlds – premium electronics in addition to traditional craftsmanship for an exceptional instrument that will be appreciated by anyone who plays it.
The Ibanez Acoustic AE body has a narrower waist, a deeper depth, and a rounder lower bout. The body strikes the perfect balance between projection and comfort.
The Ibanez acoustic AE series is an excellent option for intermediate to advanced performance musicians searching for an alternative acoustic guitar that punches above its weight.
Popular Ibanez AE Acoustic Guitars:
PA
Ibanez's PA acoustic guitar is the best Ibanez for fingerstyle and percussive tapping techniques. The unique asymmetrical jumbo body design gives it an edge over other acoustic designs for this playing style. It will allow you to be more percussive and produce a focused low-end.
The PA Ibanez acoustic guitars are designed with either a solid German spruce top for more dynamic and lively performance or a solid cedar top for a more intimate and subdued performance.
These Ibanez guitars are great for performing artists and come standard with their stereo pickup system.
Popular Ibanez PA Acoustic Guitars:
AEW
If your primary playing style is shredding arpeggios on electric guitars, then Ibanez has designed the AEW acoustic guitar with you in mind.
The flamed maple top, back, and sides give the guitar a warmer tone. The walnut fingerboard adds to the lovely sound of the instrument. At the same time, the mahogany neck makes it more enjoyable to play.
The asymmetrical design is distinctive and innovative. It will appeal to people seeking a more forward-thinking, comfortable acoustic guitar design. This instrument also includes a Fishman Sonicore pickup, an Ibanez AEQ-AP2 preamp, and an onboard tuner.
The AEW series provides an excellent acoustic-electric guitar when you want modern performance and rich acoustics.
Popular Ibanez AEW Acoustic Guitars:
AEG
The AEG series from Ibanez is a versatile and budget-friendly guitar with an auditorium-style body (think Taylor Guitars).
This is a great beginner instrument for someone seeking a "Swiss army knife" acoustic guitar.
The AEG also uses solid spruce or solid Okoume top woods for a few models in this series, which give the instrument greater resonant and depth in tone.
Popular Ibanez AEG acoustic guitars:
Talman
The Ibanez Talman shape is another Ibanez acoustic guitar design aimed at electric guitar players. The Ibanez Talman is a unique take on an acoustic guitar that isn't quite an electric or an acoustic.
This guitar's body is designed with a double-cutaway to encourage players who wish to move up the fretboard rather than taking a more conservative playing style.
It's lightweight and affordable and is a great beginner acoustic guitar for those that want to eventually transition to the electric guitar.
Popular Ibanez Talman Acoustic Guitars:
Altstar
The Altstar is essentially an Ibanez electric guitar disguised as an acoustic guitar. With a traditional Ibanez headstock, flat and fast neck, shallow dreadnought body shape, and neck joint at the 16th fret, this acoustic isn't meant for your campfire sing-a-longs.
This is the guitar you buy when you want to kick acoustic guitar tradition in the face and casually shred into the night!
Also, Altstars are very affordable acoustic guitars that make for a great practice guitar for the hotel-bound electric guitar player.
Popular Ibanez Altstar Models:
Electronics and Pickups
Since the best Ibanez guitar is often built with the electric guitar player in mind, most Ibanez acoustic guitars come with a built-in preamp for easy plug and play.
A unique feature of Ibanez's acoustic-electric guitars is often equipped with stereo outputs for the pickups. This can give front-of-house mix engineers extra control over how your acoustic sounds while performing live.
For example, they could add effects to one signal while keeping the other dry. This blend can bring extra depth and dimension to your live sound.
Picture of pickup courtesy of ibanez.com
Undersaddle pickup picture courtesy of ibanez.com
Innovative Features
One feature that comes with most Ibanez acoustic guitars is the Ibanez Advantage Bridge Pins system.
Unlike traditional pins, the Ibanez advantage pins make removing and replacing the pin simpler and changing strings easier. The pin and string stay put because of a unique bulb-shaped end that makes it simple to hold.
It's these small innovative features that make Ibanez stand out from other brands.
FAQ
The most frequently asked questions about Ibanez acoustics answered.
Is Ibanez a good acoustic guitar brand?
Ibanez is a great guitar brand for beginner to intermediate players who want to play up and down the guitar's neck.
While there are many great brands of guitars, non conjure up serious guitar shredding vibes like Ibanez.
Are Ibanez acoustic guitars easy to play?
Ibanez guitars tend to be known for fast, sleek guitars, and their acoustic line often shares these same design qualities.
However, for some of the budget guitars, users have mentioned that the action was too high, affecting playability.
Are Ibanez electro-acoustic guitars good?
Yes, almost every guitar in Ibanez's lineup is an acoustic-electric. Being primarily known for creating electric's, they bring this same ethos into their acoustic guitar lineup.
What makes Ibanez stand out is their acoustic-electric guitars include a neck pickup and an under-saddle pickup for various playing styles, such as tapping and lead lines. In addition, they provide separate stereo audio outputs for further tone possibilities.
To Recap
In this Ibanez acoustic guitars review, I shared what I believe to be the best Ibanez acoustic guitar for different use-case scenarios.
For most guitarists reading this article, you should be looking for a budget-friendly and versatile guitar that will grow with your skill level over time.
This is why the Editor's Choice is the AEWC300. This particular guitar gives you the best value for money while being able to experience the unique angle that Ibanez provides.
If you are looking for quality guitars that are an alternative to Taylor, Fender, or Martin, then look no further than Ibanez!
Editor's Choice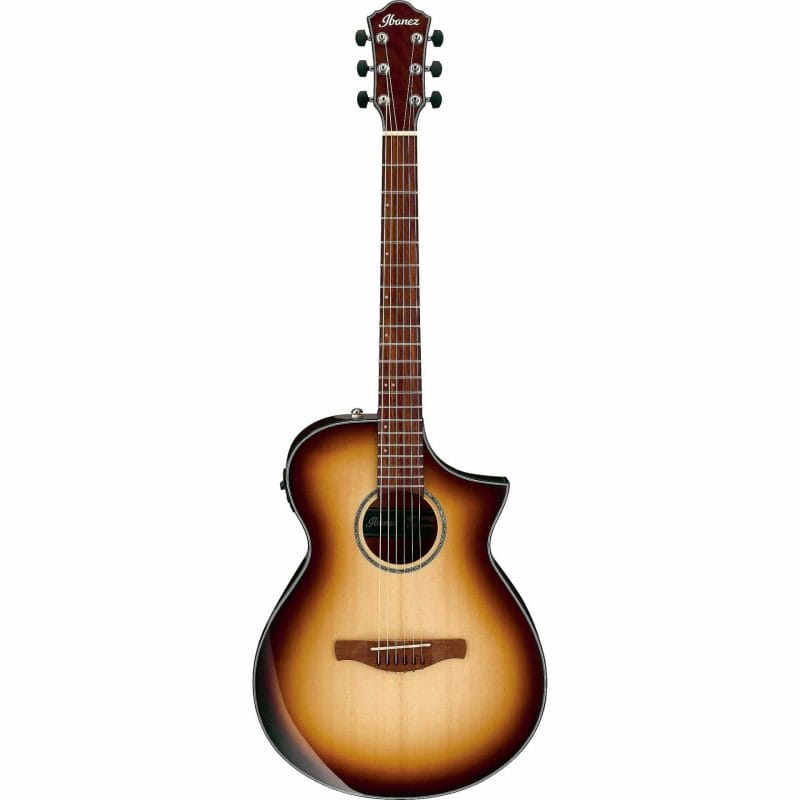 Great for live performances or noodling at home
It's the perfect blend of tradition and modernity
The guitar feels good in your hands
The solid spruce top has a more resonant and bold tone