Best Value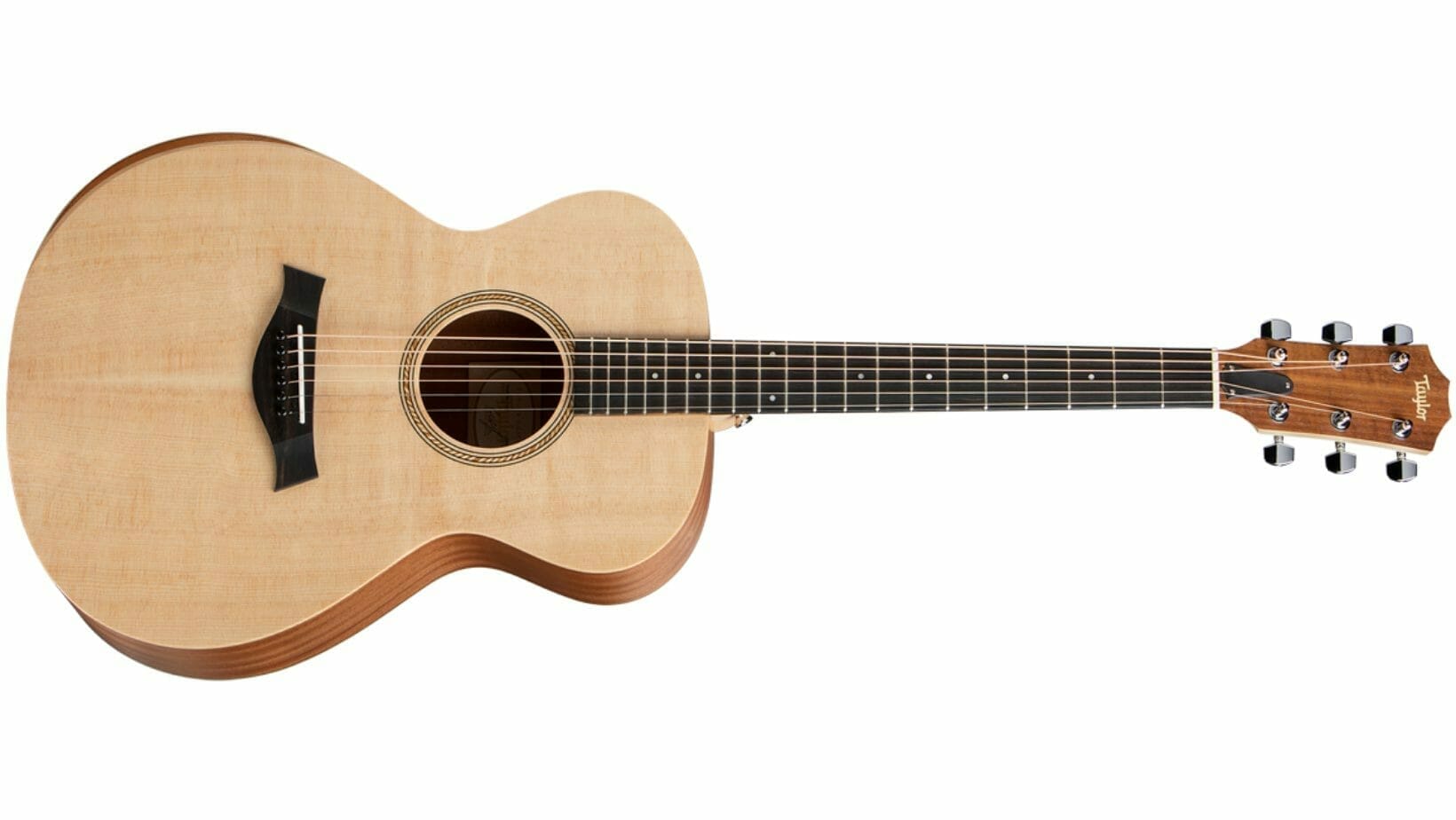 Academy 12e
It's easy to play and comfortable for long periods
An excellent choice for players who struggle with bar chords
It's made of quality materials and excellent craftsmanship
Editor's Choice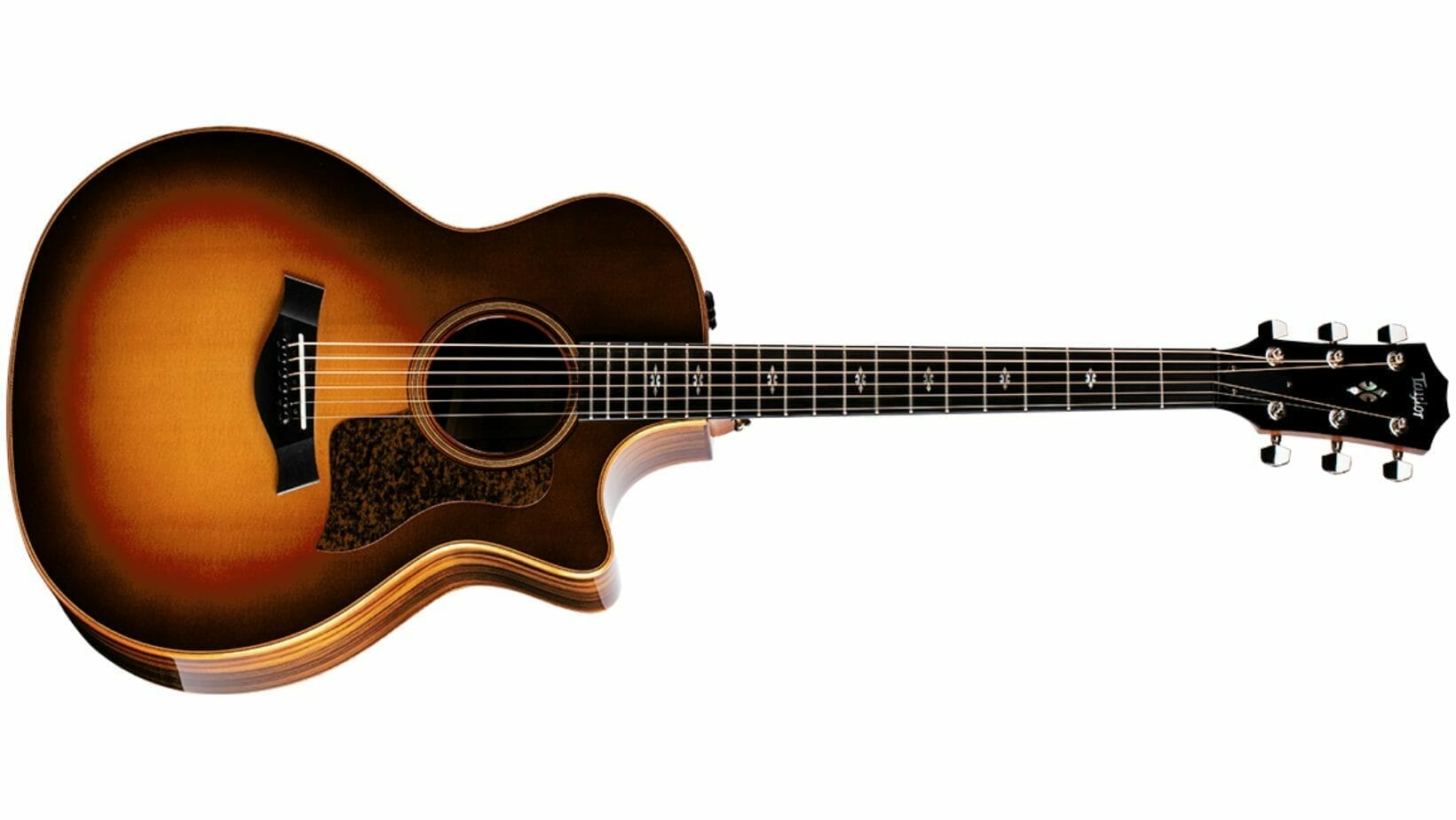 714ce V-Class WSB
It has an outstanding treble and bass response that is excellent for all styles of music
Hear every note with perfect precision with the V-Class Bracing
This guitar has a look that looks effortlessly classy
Best for Recording
522e 12-Fret
Get the tone you've always wanted with clarity and separation
Shorter neck for less fatigue and more enjoyable longer sessions
Compresses naturally for a more balanced and warm sound
The Challenge to Buying the Best Taylor Acoustic Guitar Today
It can be hard to find the best Taylor acoustic guitar. There are so many models, shapes, and wood combinations on the market, and it's challenging to know which one would best suit your needs.
Especially when guitar shops aren't carrying the number of guitars they used to. They have a lock on them when they do, and getting help from someone to let you try out multiple guitars can be challenging.
So choosing the right acoustic guitar has become a daunting process that takes hours of research, reading reviews, and watching videos.
So I created this article to help you by giving my take on what models are worth considering based on different situations and needs. This will save time for people who want concise lists, so they don't get sucked into the gear lust rabbit hole, or worse, regret a purchase decision.
With this article, you'll be able to find the perfect fit for your next guitar. We've got some great recommendations that will work for any budget, genre, or playing preference.
Let's get started!
The Best Taylor Guitars at a Glance
Editor's Choice: 714ce V-Class WSB
Best Value: Academy 12e
Best for Budget: Big Baby Taylor
Best for Recording: 522e 12-Fret
Best for Singer-Songwriters: 712ce 12-Fret
Best for Flatpicking and Strumming: 618e
Best for Fingerstyle: PS12ce 12-Fret
Best Versatility: T5z Custom K
Best for Children: Baby Taylor Mahogany (BT2e)
Best Premium: PS14ce Honduran Rosewood
Editor's Choice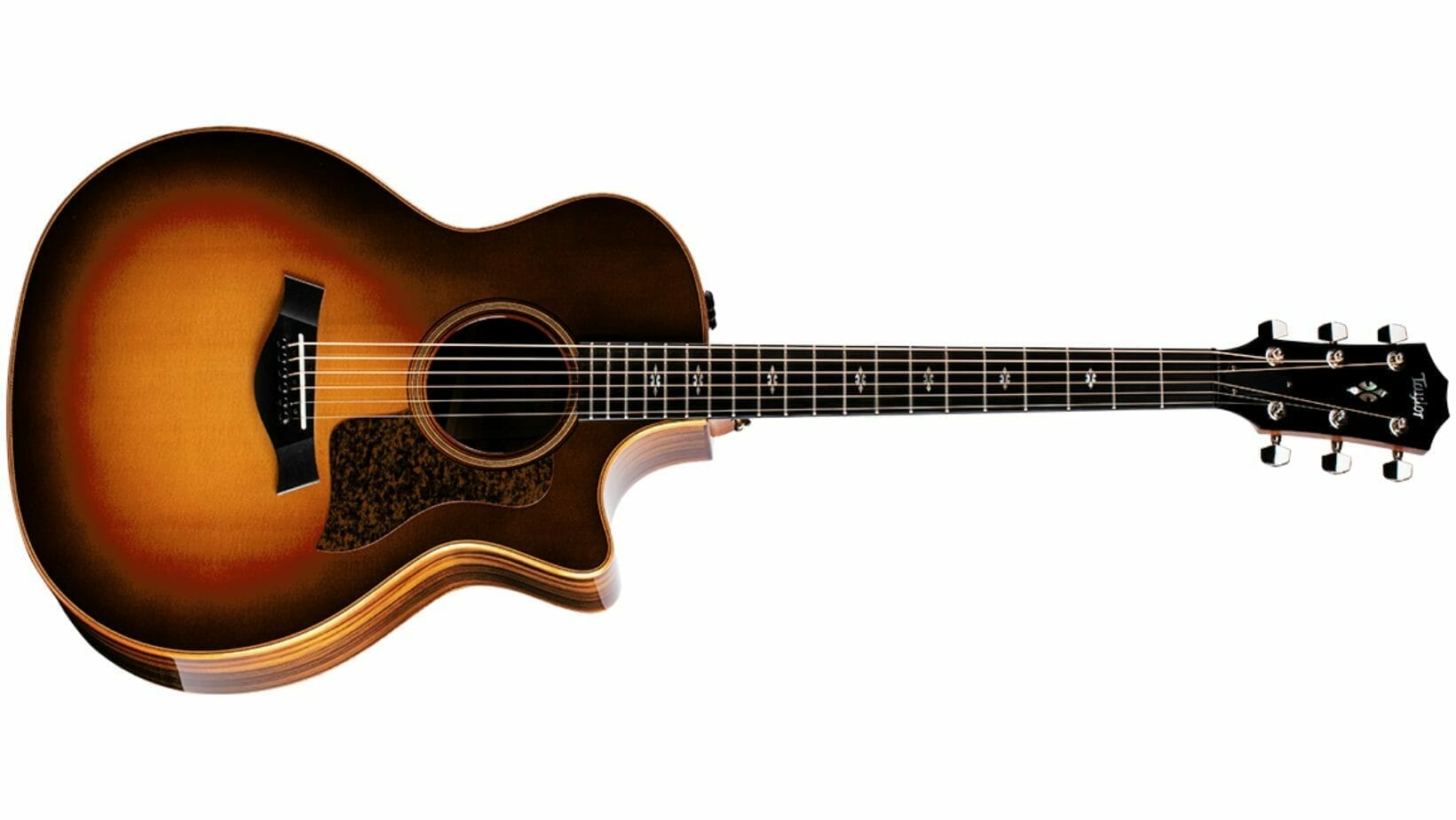 It produces a beautiful tone with great bass and treble response
Perfect for singer/songwriters
You'll be able to hear every detail with perfect precision
Delivers more loudness, sustain, and stable intonation than other guitars in its price range
Be confident in your guitar choice
The Taylor 714ce WSB is a high-quality acoustic guitar with its Lutz spruce top and Indian Rosewood back and sides. This gives the guitar great dynamic range while also having outstanding treble and bass response that is excellent for all styles of music. Because Rosewood slightly scoops out the mid-range, this acoustic guitar is perfect for singer/songwriters to play on stage or unplugged at home.
This guitar comes standard with the innovative V-Class bracing. This bracing produces a louder guitar, has more sustain and better intonation than other guitars in its price range. You'll also hear every note detail with perfect precision.
The Grand Auditorium body style has a Venetian cutaway on the upper bout to allow easier access to the top frets without sacrificing sound quality or volume.
This guitar also comes equipped with Taylors patented NT Neck, which is a godsend for anyone who has ever had to reset their guitar's neck. It easily detaches from the instrument, making any necessary adjustments painless and inexpensive.
The rich, dark tones of an ebony fretboard and mahogany neck combined with this guitar's 1 3/4″ nut width play like butter and make it a perfect choice for any playing style.
The 714ce comes with Koa bindings, reflection abalone fingerboard inlay, and a douglas fir herringbone rosette. The full gloss finish on top of this guitar gives it an effortlessly classy look that's perfect for someone who wants to stand out from the crowd without being too flashy or attention-seeking.
The Taylor Expression System 2 (ES2) pickup system comes standard with this guitar. The ES2 system gives guitar players the sound they've been looking for while playing amplified. Made from a 3-section proprietary technology that places the pickup behind the saddle, producing a vibrant and natural tone when plugged into a PA or amp.
Simply, this guitar is a work of art and deserves to be treated as such. It comes with a hardshell case for when you're not playing it or traveling so that your investment lasts a lifetime.
Best Value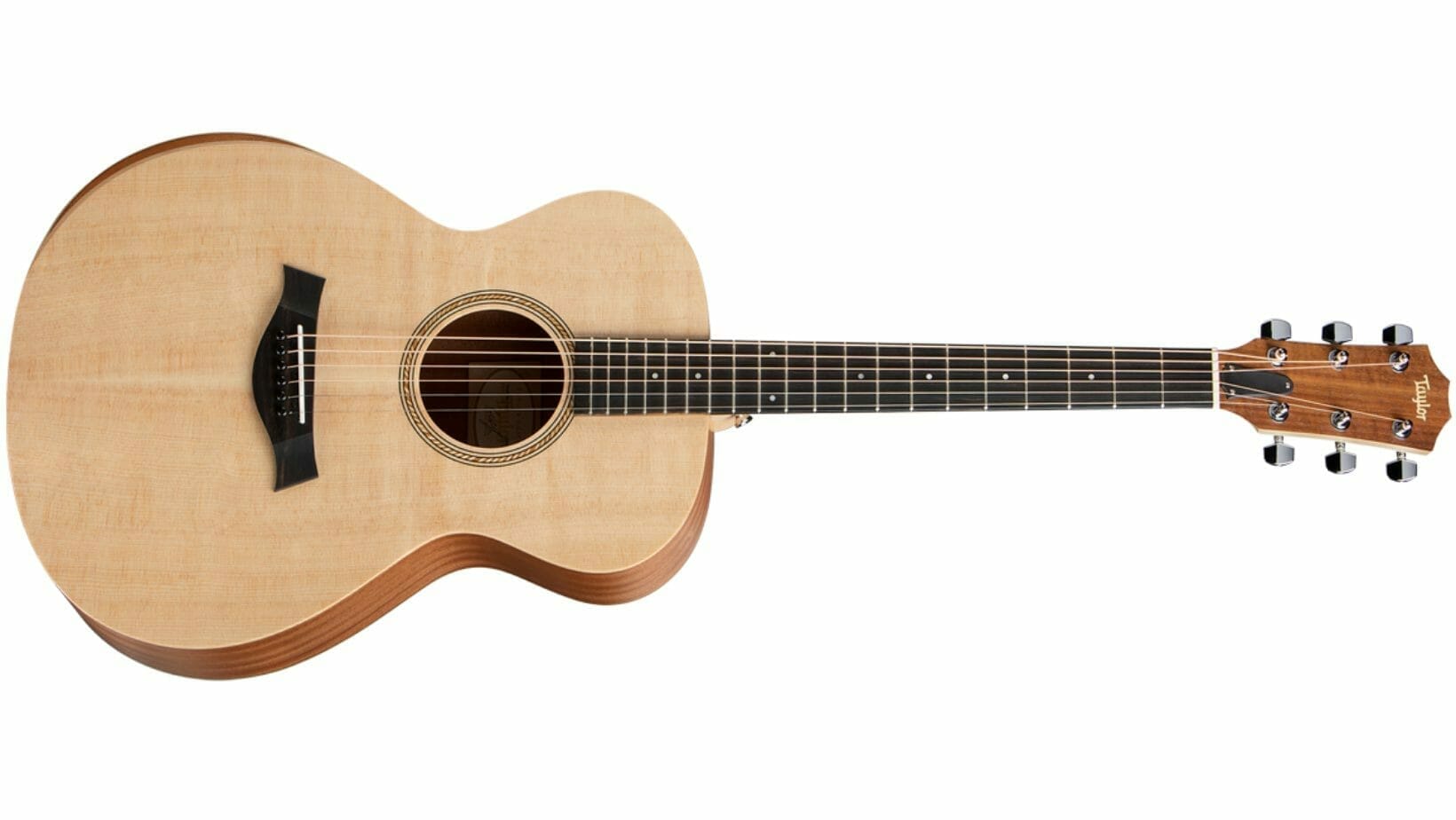 Great for beginners with a comfortable body
It comes with a premium gig bag
Equipped with built-in tuner and ES-B Pickups
You'll be able to play tricky chords with ease
Get the rich, dynamic tones you've always wanted in a budget guitar
The Taylor Academy 12e is a fantastic option if you're looking for the best value with your acoustic guitar purchase without sacrificing tone or playability.
This guitar is perfect for beginners and advanced musicians alike. The Academy 12e has an elegant Grand Concert body that will make playing more comfortable and easy. There's also a slope on the body's edge to reduce arm fatigue when you're playing for long periods.
The "slinky" feeling of the 24.8″ short scale length makes for a comfortable neck profile and something you won't find with other guitars in this price range. It's an excellent choice for players who struggle with bar chords and cowboy chords because it takes less pressure to sound the notes.
This guitar's solid Sitka spruce top produces rich, dynamic tones. While the pairing of the layered Sapele back & sides surprisingly give it depth and resonance beyond other laminated guitars in this price range.
The craftsmanship and playability of this guitar are also of the same standard as other premium Taylor Guitars models.
This guitar is perfect for any situation, whether you're playing on stage or just hanging out at home. If quality that won't break the bank is desired, this excellent instrument won't disappoint!
Best for Budget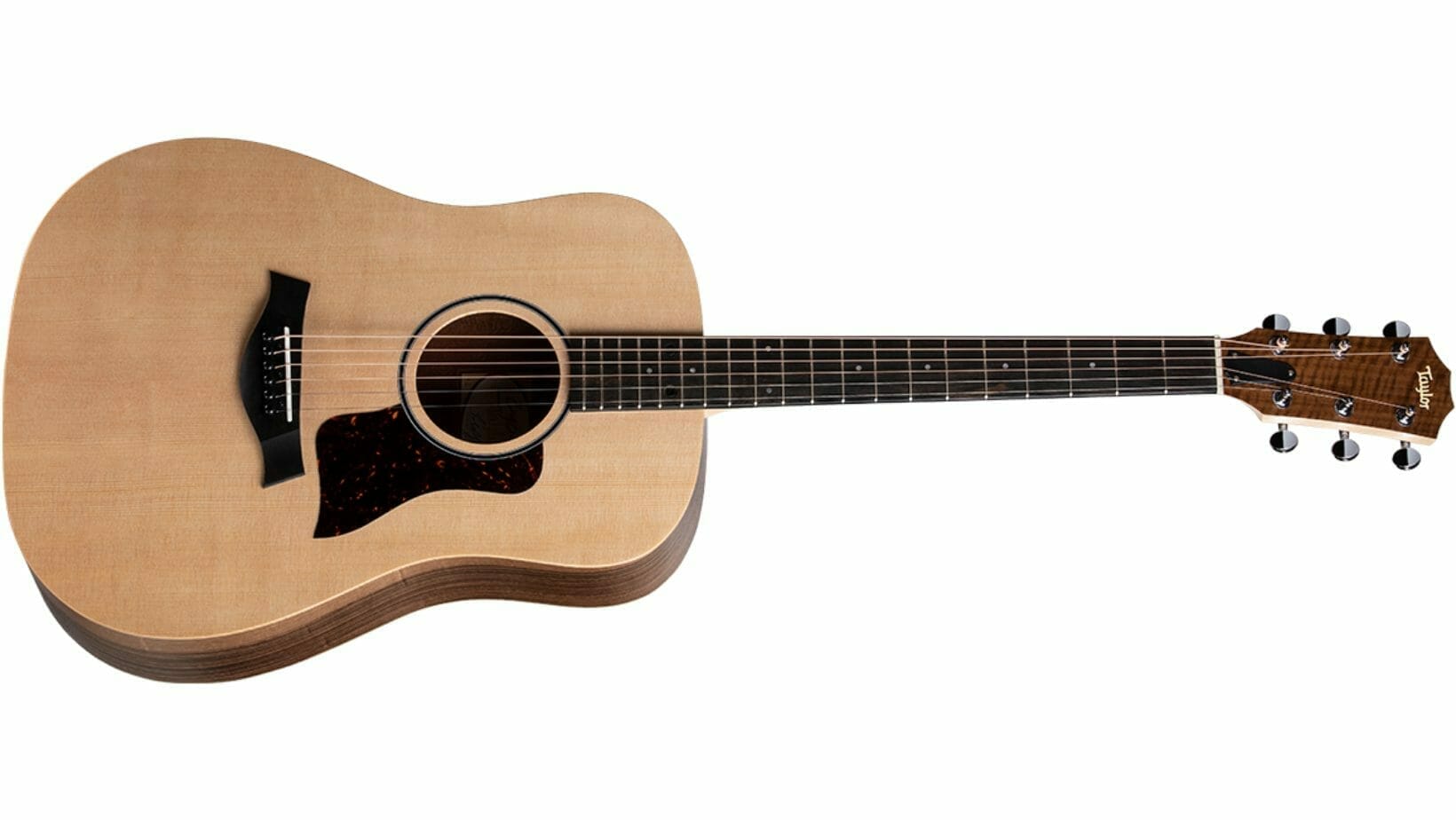 It comes with a gig bag
Nice, cheery tone
It produces a premium sound with its solid Sitka spruce top
Excellent construction
The Big Baby Taylor is the best acoustic guitar for someone who wants to buy a Taylor brand guitar but doesn't want to spend a fortune.
It has a nice, cheery tone that plays excellent with any skill level, and its affordable price makes it easy on both your wallet AND conscience!
The 3/4-size dreadnought is an incredibly comfortable guitar to play. It produces a premium response with its solid Sitka spruce top. The layered walnut back and sides create that rounded, balanced tone you won't often find in other budget guitars.
The ES-B electronics deliver a clean and clear plugged-in tone, so you can plug into an amp or PA system at your next gig without sacrificing tonal quality. It also includes a built-in tuner for quick and easy tweaking before performances.
Even though The Big Baby Taylor isn't technically a full-size guitar, it still plays and sounds like one. This is the best option for joining the Taylor Acoustic Guitar family with good quality construction and tone without breaking your budget.
Best for Recording
A shorter neck and petite body allows you to play for more extended periods without becoming tired
The tone is more intimate and articulate, perfect for recording purposes
You'll be able to record your music with clarity and precision
The all Mahogany construction will make your recordings shine with warmth and richness
If you're a musician looking to spend hours recording takes in the studio, then there's no better guitar than Taylor Guitars 522e 12-Fret. Its shorter neck will make your session more enjoyable while reducing fatigue that often comes with playing an instrument for long periods.
The Grand Concert body shape is a more intimate, articulate type of guitar that is perfect for recording purposes. The 12-fret models have less projection but create a more focused sound, creating separation and clarity in every note or chord that's played.
The deep, warm tone created by the all-mahogany top, back, and sides will make your recordings shine with richness and clarity. Engineers love this type of wood for its natural compression, making it an excellent choice for all recording artists.
Best for Singer-Songwriters: 712ce 12-Fret
Best for Singer-Songwriters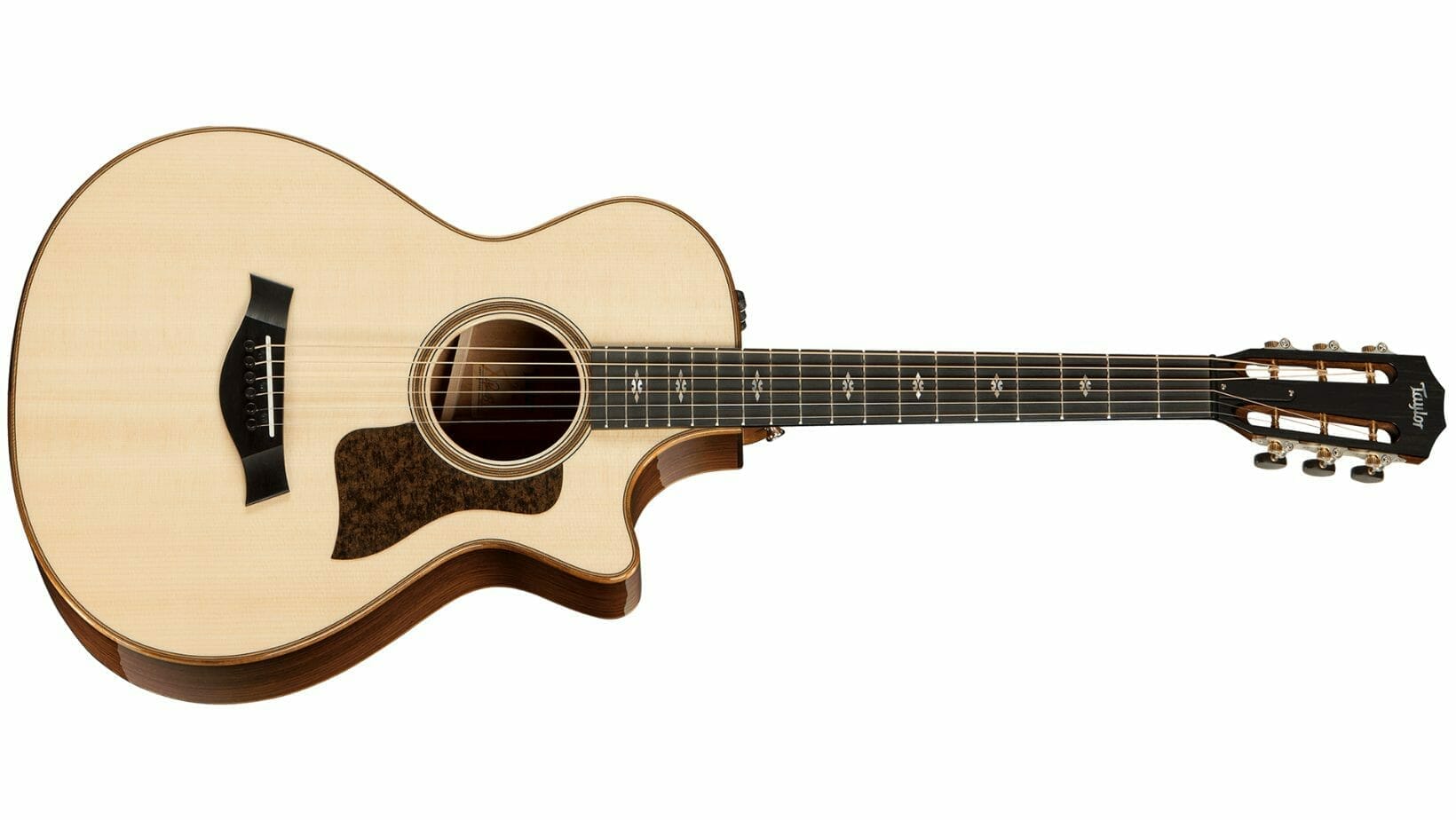 A more intimate and comfortable playing experience
It has a great sound and tone
It's the perfect guitar for any guitarist who loves singing while playing
This Taylor acoustic guitar is a smaller, more intimate edition to the Editor's Choice pick 714ce. It features its predecessor's best qualities but has a shorter scale length and a Grand Concert body instead of the grand auditorium. This makes it great for playing in small spaces or writing music in your house with no amplification.
If you're someone who loves to sing while playing guitar, then the 712ce is the perfect acoustic guitar for you. This acoustic guitar has a quick sound response, thanks to the Lutz spruce. It also has a mid-range scoop because of the Rosewood back and sides. This makes the 712ce 12-Fret an excellent choice for those who enjoy showcasing their voice as well as their guitar.
Suppose you are a singer/songwriter looking to find the right match of vocal intimacy with your guitar performance. In that case, this is an amazing acoustic guitar for you!
Best for Flatpicking and Strumming: 618e
Best for Flatpicking and Strumming
Solid Sitka spruce top and figured maple back and sides provide outstanding tonal balance and lots of headroom
With a hard strum, your guitar will increase in volume without decreasing in tone
This acoustic guitar cuts through the mix
Great low-end response without being muddy
The Taylor Guitars 618e is an excellent dreadnought-style acoustic guitar for those looking to make their music stand out. This model offers plenty of volume and tonal chord balance with its Grand Orchestra body shape, making it perfect for heavy-handed strumming players.
The 618e is a rounded shoulder dreadnought guitar with V-class bracing that features better projection and sustain than traditional x-bracing dreadnoughts. This means you can play at higher volumes without sacrificing sound quality and creating muddy chords. It also will help stand out in band situations where you need volume to cut through the mix.
Best for Fingerstyle
Equipped with Taylor Guitars proprietary ES2 Pickup System
Beautiful appointments, inlays, and high-quality hardware
Each note will be articulate, balanced, and warm with little picking effort
It comes with a premium hardshell case
Unique soundboard made from a treasured tonewood
Innovative V-Class Bracing


The Taylor Guitars PS12ce is a dream guitar for fingerstyle players. It has a warm sound, a comfortable playing experience, and excellent playability.
However, this guitar is not cheap!
The soundboard is made with sinker redwood. Sinker redwood is a treasured tonewood that has a resonant and punchy sound, with warm undertones. It is often referred to as "Cedar on Steroids." The wood comes from giant aged redwood trees that have been stuck at the bottom of riverbeds in California for more than 100 years!
The back and sides are made with Honduran Rosewood, which adds balance and rich harmonics to the acoustic guitar's tone.
The short scale length, slightly wider neck, and Grand Concert body size make for an easy-playing guitar. The tonewoods also help create the perfect blend of long sustain with clarity, so your notes are articulate without extra effort on behalf of your fingers or fretting hand.
The radius armrest in the guitar makes for a comfortable playing experience. At the same time, its West African Ebony fingerboard and tropical mahogany neck couldn't be more inviting.
This premium acoustic guitar is perfect for an experienced fingerstyle player. I guarantee that anyone who plays it will fall in love and have a guitar that will inspire beautiful music for the rest of their life.
There are plenty of other great fingerstyle acoustic guitars on the market. If you want to see my list of the best, please read my article The Best Fingerstyle Guitars for Acoustic Players and Songwriters.
Best for Versatility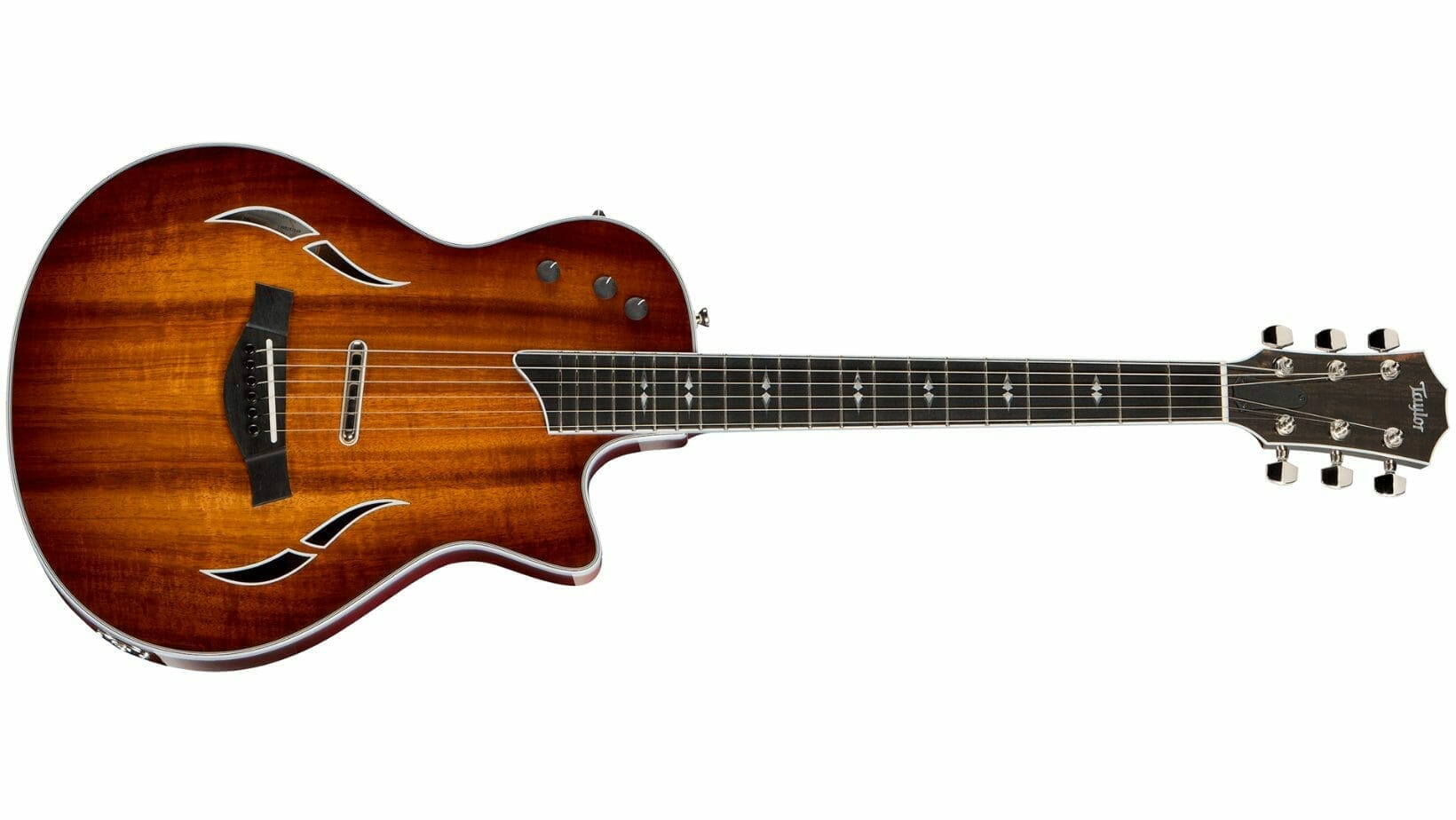 Never worry about sounding great unplugged or amplified again
Great for electric guitar players
Swiss army knife acoustic-electric guitar for live settings
If you want an acoustic guitar that feels and sounds like an electric, then the T5z Custom K may just be the guitar for you.
It has a beautiful AA Hawaiian koa top and Sapele backsides which provide a great tone when unplugged or amplified.
The compact body will feel right at home for solid-body electric players. The shorter scale length, fast action, and jumbo frets make fretting and bending strings easy.
This electric acoustic-electric hybrid features a dual pickup system that includes both an acoustic body sensor and a concealed neck humbucker, as well as a visible bridge humbucker.
The T5z has been designed to be used in the most demanding and versatile situations without sacrificing sound quality or playability.
This is a truly unique instrument that straddles the line between acoustic and electric guitars.
Best for Children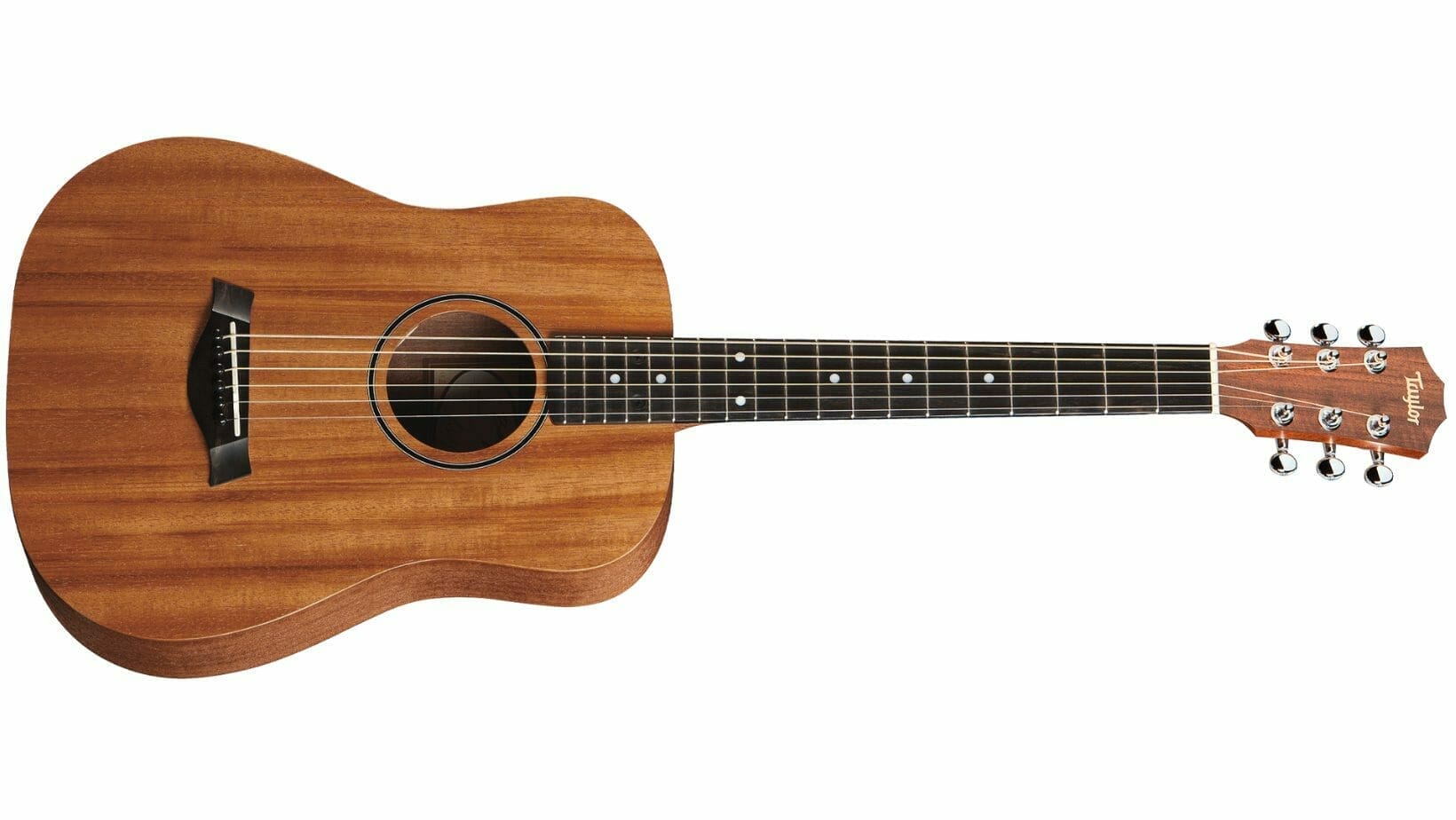 Fun to play and easy to learn on
Solid mahogany top
It's a great size for kids and beginners
It has an impressive sound for its size
It has a built-in tuner and pickups
It comes with a gig bag


The Baby Taylor acoustic is a 3/4 size dreadnought acoustic-electric guitar. It features an impressive solid mahogany top and layered Sapele back & sides.
Mahogany is an excellent choice for young kids and beginners because of its natural compression abilities, which can help produce a more even sound. This is a significant benefit for players who haven't developed the hand strength and technique to strum or pick evenly.
The Baby Taylor acoustic also features the great ES-B electronics that deliver great plugged-in tones and comes equipped with a built-in tuner.
The small size of this guitar makes it comfortable to play, especially for children or adults with smaller hands.
The ebony fretboard and bridge provide a smooth and easy playing experience. At the same time, the gig bag included offers protection when traveling or dealing with any outdoor weather conditions.
Overall, I'm impressed with the quality of this small-size guitar. It sounds excellent, the build is high-quality, and this guitar will last a lifetime!
Best Premium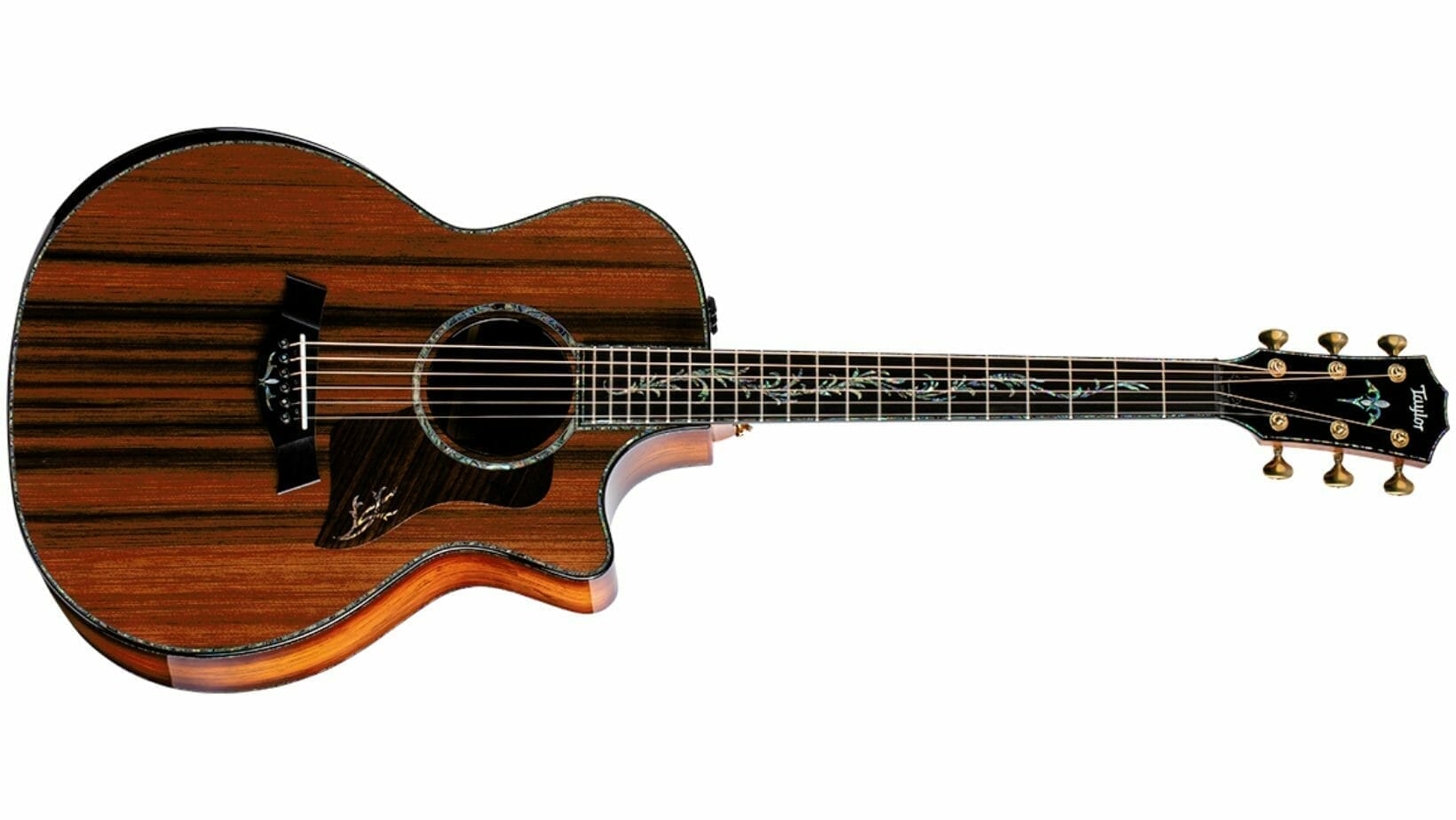 It has both the warm overtones of cedar and the dynamic range of solid spruce
It's got a beautiful, rich tone
Beautiful hand-crafted guitar made in the USA


The Taylor Guitars PS14ce is the bigger, bolder brother to the PS12ce. This model features its predecessor's best qualities with an even larger body and longer scale length. Making it more suited for grandeur performances or recording sessions where you want that full-range tone and volume.
If you're looking for a guitar that can do it all, this one may be just what your ears are craving. It's a beautifully hand-crafted guitar that will be the prized instrument in any guitar collection.
Buyers Guide for Taylor Acoustic Guitars
Suppose you have been shopping around trying to find the best Taylor guitars on the market. In that case, the following guide will help you narrow down other options that weren't in my best Taylor Acoustic guitar reviews.
Body Styles
One of the most significant factors to consider before purchasing any guitar is to decide what shape you want the body to be.
Here is a breakdown of each Taylor Guitar body shape with its use case.
Baby
The small size of this Dreadnought acoustic guitar is a perfect starter guitar for youngsters and travelers alike.
The Baby size can also be used for other creative purposes like lap-steel playing and producing alternative acoustic tones for recording.
Popular model:
Taylor Swift Baby Taylor (TSBTe)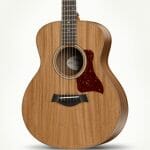 GS Mini
The mini GS Taylor guitar is a fun and comfortable option for young adults at an intermediate level.
This body size also makes it perfect for those with petite frames.
Popular model:
Big Baby
The Big Baby Taylor guitar design has long been a favorite among budding acoustic musicians. The guitar's easy-to-play, comfortable performance can help many beginning players grow.
The lightweight feel of this affordable range makes it perfect for taking on trips or as your "lounging-on-the-couch" guitar.
Popular model:
Taylor GT (Grand Theatre)
Taylor's most petite body shape in their full-sized guitars lineup. The GT body was inspired by the big tones of their biggest body guitar, the Grand Orchestra.
This small body guitar is the perfect option for players with small hands and for people who want something comfortable, portable and that doesn't skimp out on that sacred tone.
This is the perfect body shape for that "campfire guitar."
Popular model:
Grand Concert
The grand concert model is similar to a parlor shape but with more clarity and depth. If you're looking for a comfortable acoustic guitar that will shine when playing fingerstyle. For recording, the Grand Concert is also the shape for you!
Popular model: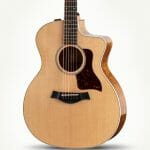 Grand Auditorium
The grand auditorium guitar is the most versatile shape in the Taylor Guitars' lineup. If you want something that can do fingerstyle, flat-picking, and strumming well, then a grand auditorium should be your go-to guitar shape.
The grand auditorium is the Taylor Acoustic Guitar shape that has defined the brand for decades.
Popular model:
Grand Pacific
Taylor's grand pacific body type is a variation on the classic dreadnought. The rounded shoulders of the guitar's body create excellent projection and musical overtones, making it perfect for rock, blues, and folk-style playing.
If you're a rhythm player and songwriter who mainly plays cowboy chords, then this guitar shape is an excellent choice for you.
Popular model:
Dreadnought
There aren't many Taylor guitar models that have the classic dreadnought shape. It has been replaced by the re-envisioned Grand Pacific Taylor model.
However, if you are looking for a Taylor acoustic that mimics the classic, you can find it in the 110e.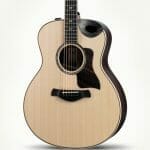 Grand Symphony
The grand symphony is described as a supercharged grand auditorium body shape.
The sound of this body style will be bright and percussive, with strong volume when strumming or flat-picking.
Its elegant performance and playability are perfect for acoustic guitarists who want to make their guitar playing felt by the audience.
Popular models: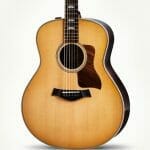 Grand Orchestra
The grand orchestra is the perfect body style for a loud, dynamic, and complex sound. Especially if you want something that can fill an entire room.
Acoustic guitars that have this body produce big, rich lows and thick trebles.
If you're are stage performer, then this guitar shape might be just what you're looking for.
Popular models:
Tonewoods
When choosing the best Taylor guitar for you, it's crucial to consider what woods will produce the sound you want. Not only do tonewoods affect acoustic guitars tone, but they also shape their dynamic range and playability.
The Soundboard
The soundboard (or top wood) is the most essential tonewood of an acoustic guitar. When shopping for your next Taylor guitar, you will traditionally run across four different top-woods for the soundboard.
Spruce
Acoustic guitars are often made with solid spruce, which is the most popular top wood. Solid spruce is a softwood with a wide dynamic range and sonic versatility.
Taylor guitars will use multiple different spruce species for their guitars. The spruce used is:
Solid Sitka Spruce: Versatile and dynamic
Solid Lutz Spruce: Rich and loud
Solid Engelmann Spruce: Warmer, more mid-range focused tone
Solid European Spruce: Great dynamics and warm overtones
Solid Adirondack Spruce: Loud, dynamic, and clear tone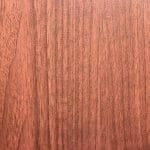 Mahogany
Mahogany is a hard, dark wood with a rich midrange and less dynamic range than other top woods.
Mahogany is an excellent option for recording artists and guitarists with uneven strumming techniques.
Cedar
Cedar is a softwood that responds quickly to delicate touch. It can be both warm and percussive, making it perfect for fingerstyle and classical players.
In fact, cedar is often found on nylon-stringed guitars.
The downfalls of cedar are that the sound doesn't hold up well to hard picking or strumming and can be prone to cracking.
Koa
Hawaiian koa wood is similar in characteristic to mahogany. However, Koa wood has a brighter sound, making koa a great guitar option for those who play the pads of their fingers and need the extra treble response.
If you are a player with a pick or don't like overly bright acoustic guitars, then this top wood might not suit your playing style.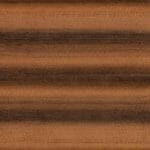 Sinker Redwood
A visually appealing and rare tonewood, sinker redwood is often described as "cedar on steroids."
It has the warmth of cedar but responds more like a Sitka spruce top creating more dynamics. Making it great for a player who plays with both a light and heavy touch.
Beware, Taylor Acoustic guitars with sinker redwood are about as expensive as it gets.
Body Woods
Taylor guitars are known for their alternative wood choices and sustainable business practices. They have lots of body and neck tonewoods to pair with the top wood throughout their other guitar models.
The wood used for the body and sides adds additional flavor and "seasoning" to the guitar's tone.
The best Taylor guitars offer classic body tonewoods like solid Indian Rosewood, Mahogany, Sapele, and Maple. However, they also introduced to the guitar world sustainable guitar woods such as Ovangkol.
For most of the guitars you would purchase from Taylor, you will most likely find it to be the traditional tonewoods mentioned above; however, you will discover a variety of unique options for their more premium guitars.
Suppose you want to dive deeper into tonewoods used for different Taylor Guitar's. In that case, their website has a breakdown and descriptions of the body tonewoods that they use(1).
How to read model numbers
To more easily navigate Taylor's many acoustic guitar offerings, you will need to understand how they label their guitars.
Here is a guide to help you out with the general number system:
The first number represents the wood type (ie 714):
| | | |
| --- | --- | --- |
| Number | | Wood |
| 1 | | Solid Sitka Spruce Top with Layered Walnut Body |
| 2 | | Solid Sitka Spruce Top with Choice of Layered Wood Body |
| 3 | | Either Spruce Top with Sapele Body or Mahogany Top with Blackwood Body (All Solid Wood) |
| 4 | | Solid Spruce Top with a Choice of Ovangkol or Rosewood Body (All Solid Wood) |
| 5 | | Either Solid All Mahogany Body or Cedar Top with Mahogany Body (All Solid Wood) |
| 6 | | Solid Spruce Top with Maple Body (All Solid Wood) |
| 7 | | Solid Spruce Top with Indian Rosewood Body (All Solid Wood) |
| 8 | | Solid Spruce Top with Indian Rosewood Body (All Solid Wood) |
| 9 | | Solid Spruce Top with Indian Rosewood Body (All Solid Wood) |
| K | | Koa Wood Series |
| GT | | Grand Theatre Body Style |
| PT | | Presentation Series |
The second number represents if it is a six-string guitar or a twelve-string guitar (ie 724 is a twelve-string).
The third number represents the body size (ie 714):
| | |
| --- | --- |
| Number | Body Style |
| 0 | Dreadnought |
| 2 | Grand Concert |
| 4 | Grand Auditorium |
| 6 | Grand Symphony |
| 7 | Grand Pacific |
| 8 | Grand Orchestra |
There are some numbers that can come after this number to designate it's a cutaway "c" and has electronics "e".
If there is an "N" after it that specifies a nylon-stringed guitar over a steel-stringed guitar.
V-Class Bracing vs. X-Bracing
Head luthier Andy Powers innovated acoustic guitar design when he introduced V-Class bracing in 2018.
V-Class revolutionizes acoustic guitar playing by improving the guitar's volume, sustain, and intonation.
This bucked the conventional wisdom that the best way to structure the interior of a guitar was with X-bracing that was designed by Martin Guitars over a century ago.
V-Class Bracing is one of the features that makes Taylor Guitars stand out against the competition.
Taylors Patented NT Neck
Founder Bob Taylor invented the patented NT neck back in 1999. This neck has superior playability to other acoustic guitars and is incredibly easy to take off and adjust.
Other manufacturers glue the neck at the 14th fret, while Taylor goes all the way up to the 19th fret and bolts it in. This helps keep the neck straight while decreasing the chances the neck will warp and bow.
This innovative feature will also save you tons of money later down the road if you ever have to get a neck reset.
Taylors Expression System 2 Pickups
The Expression System 2 is an innovative pickup system for acoustic guitars. Instead of placing the pickup directly underneath the guitar's saddle, it is placed behind the saddle with three calibrated pickup sensors.
The most prominent problem players face with an acoustic-electric guitar is it doesn't sound great when plugged in.
When plugged into a PA or amp, this innovation gives your guitar a more natural and true-to-tone signal, which is a giant leap forward in DI acoustic guitar sounds.
Manufacturing Innovation
It can be challenging to buy a new guitar without playing it first. However, as Guitar Center's and other music shops carry less-and-less inventory, buying guitars online is becoming the norm.
Taylor Guitar's factories use state-of-the-art technology that ensures consistency, quality, and playability in all of their guitars.
There really isn't such a thing as a lemon in the Taylor lineup. You can definitely buy a Taylor acoustic with confidence; it will be high quality all around.
Sustainability
Bob Taylor has made it his companies mission to preserve timber and to produce guitars sustainably and ethically.
He has made great strides in sustainable manufacturing, including:
Creating an eco-friendly polyester guitar finish that does not contain volatile organic compounds (VOCs)
NT Neck design increased the number of necks supplied per tree by 50%
Taylor donates wood scraps to be transformed into toys for orphanages in Mexico.
Taylor sustainably harvests woods, and works/owns an ebony mill and Koa farm.
FAQ
Here are some answers to the most popular questions about the best Taylor acoustic guitars:
Are Taylor Guitars worth the money?
In short, yes!
Taylor Guitars are expertly made and easy to play high-end acoustic guitars that are built to last. You'll be proud of your Taylor in any setting – they're a worthy investment for serious guitar players.
Do Taylor Guitars sound better with age?
Like all exceptional guitars built with solid wood, the guitar will open up and develop a more complex and rich sound over time.
Taylor Guitars are no different.
Are Taylor Guitars good for fingerstyle?
Absolutely! With the V-Class Bracing system, A Taylor guitar will respond to a lighter touch with greater volume, sustain, and more articulate sound.
They also have plenty of guitar body styles like the Grand Concert and GT, perfect for fingerstyle playing.
Is Taylor Guitars better than Martin Guitars?
This is subjective.
Both guitar companies produce high-quality guitars and have incredibly talented luthiers working for them.
Generally speaking, Taylor has a brighter, more modern sound. While Martin Guitars has a mid-range and classic sound.
As a guitar player, you can't go wrong with either brand.
What strings come with Taylor Guitars?
When you purchase a Taylor Guitar, they will come with Elixir strings.
To Wrap Up
The best Taylor guitar regarding playability, price, features, and sound is the 714ce V-Class with the grand auditorium body style.
Suppose you are looking for a guitar that will last you a lifetime and maintain playability through the years. In that case, a Taylor guitar is the way to go!
Editor's Choice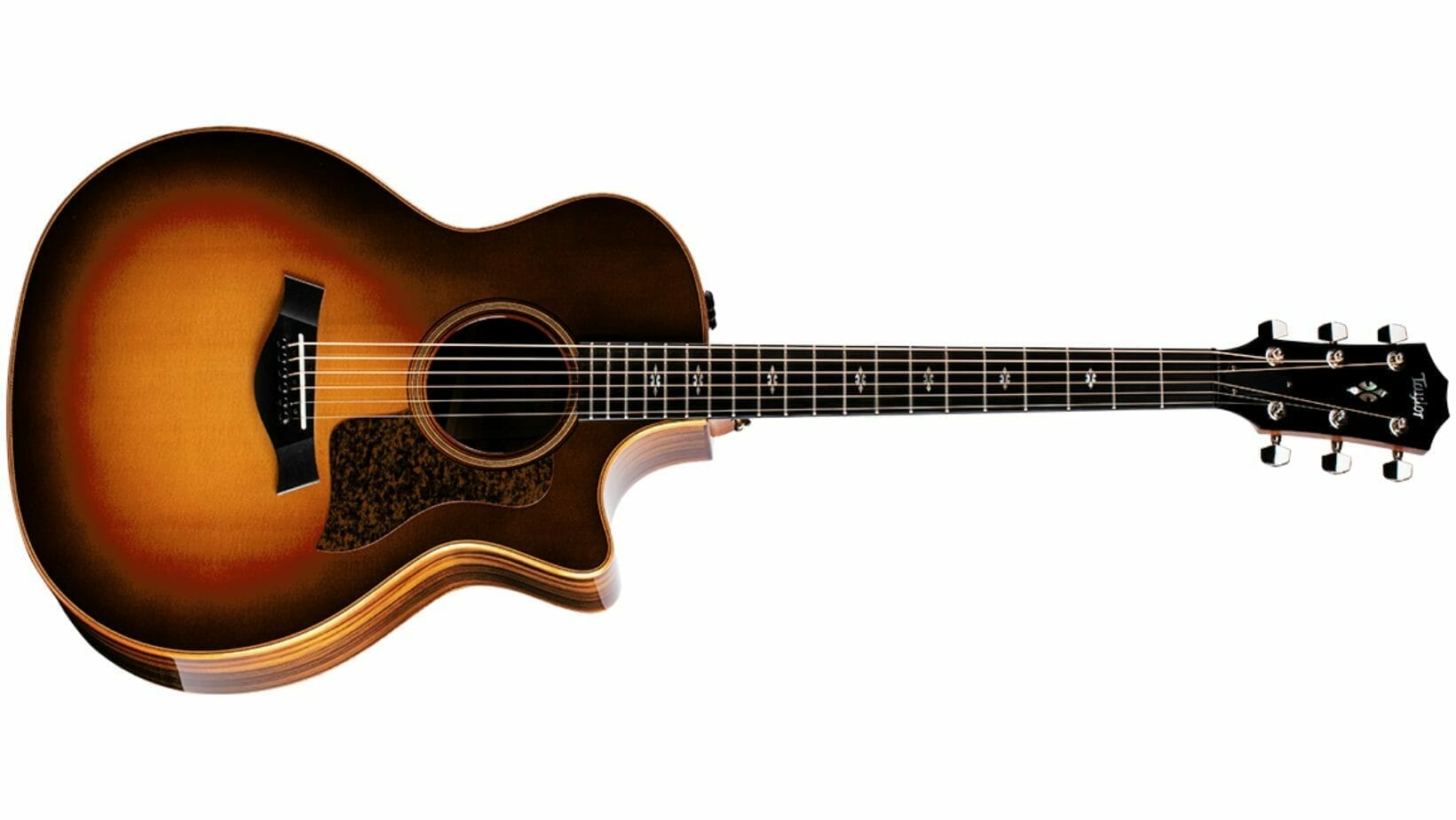 It produces a beautiful tone with great bass and treble response
Perfect for singer/songwriters
You'll be able to hear every detail with perfect precision
Delivers more loudness, sustain, and stable intonation than other guitars in its price range
Be confident in your guitar choice