For Beginners
Fender CD-60S Mahogany
The guitar has a rich, warm, and inviting sound
Mahogany evens out your playing and helps you sound like a more polished player
The guitar is durable and well made
You get a lot of extra goodies for the price
Editor's Choice
Gretsch Jim Dandy
It's easy to play and has a warm tone
You can practice without annoying others
It's the perfect size to learn on or take with you when traveling
It's a blast to play
For Budget
Jasmine S34C NEX
Get an excellent guitar without breaking the bank
The neck is comfortable to play, and the guitar sounds good
Jumbo body with cutaway allows for more advanced playing styles
The tone of the guitar is clear and bright
The Challenge with Budget Acoustic Guitars
The guitar can be an excellent tool for self-expression, but it can be overwhelming to know how to get started.
Buying your first acoustic guitar can be intimidating because of all the options and opinions out there on what is best.
There are two critical criteria for a great first guitar:
A guitar that won't break the bank
A guitar that won't be a piece of junk
From my 25+ years of experience, my #1 pick for the best cheap guitar is the Gretsch Guitars Jim Dandy. It is extremely fun and easy to play, sounds unique, and looks great.
However, I've done comprehensive research on many other great options and compiled them into a list to help you on your journey.
Plus, I'll share with you a comprehensive buying guide so you can confidently research guitars online and find the best one for your needs.
Let's get started!
The Best Cheap Acoustic Guitars of 2022 at a Glance
Editor's Choice
Great for beginners and advanced players alike
Quickly learn the basics of guitar with this inexpensive and easy-to-play guitar
Excellent small apartment guitar that won't annoy roommates or neighbors
You'll have a ton of fun playing it
The Gretsch Jim Dandy is not the typical modern guitar you might look for as a first acoustic guitar.
However, there is a lot to love about this short-scale, parlor-sized relic of the past.
First off, this is the only guitar on the list that isn't trying to model after a higher-end version of itself. The Jim Dandy is designed like an old catalog guitar.
A guitar that you would have bought in the early 1930s to give your kids to learn on for you to play in your parlor.
But the charm of this guitar goes well beyond its nostalgic angle. There are tons of practical things about this guitar that a new guitar player or even intermediate to advanced players should pay attention to.
First off, this guitar is a 12-fret, short-scale (24″) guitar. This means that there will be less string tension making the guitar easy, fun, and comfortable to play for people who have not yet built up their hand strength.
This guitar's small frame also makes it a great small apartment guitar. These guitars don't have a loud projection to a traditional dreadnought guitar, as you will often find in this price range.
In fact, its tonal sweet spot is with lighter picking and fingerstyle playing. Hence, you reduce the risk of annoying your neighbors, roommates, or family members when practicing your new skills.
The build quality on these guitars is especially good for a guitar at this price. Long-term owners often found its playability to be just as good even after years of owning it.
The guitar's tone will be more "vintage" and bluesy than other options on this list. Still, this character makes playing guitar inspiring and keeps you picking up the instrument to practice.
There are some negatives to be noted about this guitar.
First, there are no built-in electronics, so you won't be able to plug into a PA and amp if you want to gig out. However, some users will install a soundhole preamp as an add-on to remedy this.
Second, the strings are pretty close together. This can make the guitar slightly more challenging to play, especially those with larger hands.
However, as far as cheap guitars are concerned, you really are getting stellar value with this Gretsch Jim Dandy acoustic guitar.
Best for Beginners
It has a solid wood top that creates a better sound quality and resonance
The mahogany top gives the guitar a rich, warm, and earthy sound
Mahogany is a more forgiving wood for beginners
Comes with a hardshell case and other essential accessories
Suppose you're looking for something a little more traditional than our Editor's Choice. In that case, the Fender CD-60S dreadnought acoustic guitar is an excellent value for money.
The Fender CD-60S is one of the top-selling acoustic guitars for beginners. Fender is also the largest manufacturer of guitars globally, and they know how to make a great guitar.
First, this guitar has a solid wood top made of mahogany that helps the guitar have great resonance, projection, and better overall sound quality.
Mahogany also has this beautiful ability to compress a sound. This means that it will produce sound more evenly regardless of how uneven your playing is.
The bottom line, mahogany makes everyone sound better than they are.
This acoustic guitar also comes with a hardshell case, clip-on tuner, guitar strap, strings, picks, polishing cloth, and instructional DVD.
The hardshell case alone is of considerable value that you rarely find with other cheap acoustic guitars.
While this Fender acoustic guitar plays well for a guitar in this price range, the wider bridge nut (1.69") can make chords more difficult for some new guitar players.
This Fender acoustic also does not come with electronics. So you won't be able to plug into a PA or amp if you decide to show off your new guitar skills in public.
Lastly, the DVD is pretty archaic for most younger players (who has a DVD player anymore?). However, if you reached out to Fender, they would give you a few months free of their online guitar learning platform, Fender Play.
The CD-60S guitar ticks all the boxes for the best cheap acoustic guitar for beginner guitar players.
If you're interested in learning about the best Fender Acoustics in the market, please refer to my article "The Ultimate Guide to the Best Fender Acoustic Guitars"
Best for Budget
Cheap price, but a quality guitar
It is built for comfortability, playability and has excellent projection
The body of this guitar has a modern design that can suit beginner and advanced playing styles
This guitar sounds and plays like it's worth twice the price
For just over $100 brand new, the Jasmine S34C is about as cheap of a guitar as you can get. However, that isn't to say that this cheap guitar is terrible.
In fact, Jasmine is the budget brand for Takamine Guitars, a company known for making really high-quality acoustic-electric guitars. While Jasmine will not be as high-quality as Takamine, they utilize similar construction methods that make Takamine so popular.
One of the most notable features of the Jasmine S34C is the Jumbo-sized body with aggressive curves in the waist and the cutaway.
This guitar isn't a traditional build and is designed for comfortability and big projection. It also accommodates beginner and advanced playing styles.
The tone of this guitar is clear and bright. However, the all-laminated wood design makes the guitar sound "flat" compared with a solid top guitar.
Also, this guitar does not come with any built-in electronics, but that should be expected for the price.
All in all, if you are on a tight budget and you want to buy a guitar that sounds and plays like a guitar twice the price, then the Jasmine S34C will not disappoint you!
Best Indie Tone
Get that cool indie "cabin in the woods" vibe with this guitar
These guitars are well made and affordable
Solid mahogany provides a punchy, warm, and woody character
Guitar has a great look and vibe
Ibanez is often thought of as a great electric guitar brand for metalheads and progressive shredders.
However, it shouldn't be overlooked that Ibanez also makes an excellent acoustic guitar.
What makes the Ibanez AW540OPN so unique is the solid mahogany top, with mahogany back and sides at this affordable price point.
Mahogany gives a punchy, warm, and woody character that is perfect for the guitar player looking for that indie, cabin in the woods vibe.
Ibanez makes their acoustic guitars very playable with easy-to-play strings (low action), so a beginner will be able to learn the instrument with minimal trouble.
This dreadnought acoustic guitar will have better projection than a smaller-bodied guitar. However, kids and people with a more petite frame may find the guitar too large to be comfortable against their bodies.
Also, this guitar doesn't come with any electronics, so if you want to play some open-mics, you won't be able to plug into the PA or amp. You can still put a microphone in front of it, but there is a greater chance of feedback.
Suppose you look for an acoustic guitar that will sound like your favorite indie record and not break the bank. In that case, the Ibanez AW540OPN is an excellent choice.
You will be slow to outgrow this guitar. Even as you grow into an intermediate and advanced guitar player, you will enjoy playing it.
If you're interested in learning about the best Ibanez Acoustics in the market, please refer to my article "The Best Ibanez Acoustic Guitars for the Alternative Musician"
Best Modern Tone
You'll get a great guitar that will sound better over time because the solid wood top will age
It has a modern and versatile acoustic guitar sound
You'll feel like you're playing an expensive, higher quality instrument
Comes with a limited lifetime warranty
The first thing that sets the Alvarez AF30 acoustic guitar apart from the others on this list is it's built with a solid Sitka spruce top.
Solid Sitka spruce gives acoustic guitars a full and vibrant tone and is the most popular tonewood used on more expensive guitars.
Spruce is a dynamic and open tonewood that is an excellent choice for players who want a modern and versatile acoustic guitar.
If you want to play country, pop, rock, or jazz, the Alvarez AF30 will be a guitar that will help you develop that sound.
This guitar features scalloped X-bracing, mahogany back and sides, real bone nuts, and a solid maple bridge plate. These premium design features will genuinely give this guitar a more resonant sound and more outstanding playability.
The one downside of this guitar is it doesn't come with any electronics. So you will not be able to plug it into an amp or PA system if you want to gig out.
The Alvarez AF30 is one of the best cheap acoustic guitars you will find on the market. It would have made my Editor's Choice if it wasn't for the fact that Jim Dandy is just too unique and fun to play.
However, you will not be disappointed with this purchase if you are looking for a versatile acoustic guitar with modern playability and sound.
Best Acoustic-Electric Guitar: Yamaha APX600
Best Acoustic-Electric Guitar
This is a well-made instrument that comes with electronics and a pickup system
Your fingers will fly across the fretboard effortlessly
You get the best of both worlds (acoustic and electric)
The thin body style is comfortable in arms and doesn't feel bulky against your body
The Yamaha APX series is a shallow-bodied, cutaway design built with stage performers in mind.
This design has more of an electric guitar feel in your arms and modern, sleek playability, making it great for beginners.
The Yamaha APX600 acoustic guitar pushes right up against our $300 limit. Still, it's also the only guitar on this list that comes equipped with electronics and a pickup system.
The APX600 has an under-saddle piezo pickup that features Yamaha's proprietary SRT transducer. This helps keep a natural acoustic sound while plugged in while also eliminating feedback that could ruin a performance.
A downside of this acoustic guitar is the unplugged tone will be a little more "thin" than a traditional acoustic guitar since it was designed to be played on stage.
Suppose you're looking for a flexible guitar that straddles the acoustic and electric guitar lines. In that case, the Yamaha APX600 is a choice you won't regret.
If you're interested in learning about the best Yamaha Acoustics in the market, please refer to my article "The Best Yamaha Acoustic Guitar for all Skill Levels and Playing Styles"
Best Heritage Guitar
Epiphone has a long history of making quality guitars
Own a brand of guitar that your favorite artists play
Play music with a guitar that has history, tradition, and a classic look
Comes with a gig bag, picks, tuner, and strap
Epiphone has been making guitars since 1873. They are now owned by Gibson Guitars and are often thought of as a cheaper alternative to Gibson.
However, Epiphone has a rich lineage of famous admirers. They have been played by many players such as:
John Lennon
Paul McCartney
Ezra Koenig
The Edge
Bob Dylan
Tom Delonge
And this list goes way deeper than those names!
So to consider Epiphone as "budget Gibson's" doesn't give credit to the quality and revere that Epiphone has as a stand-alone brand.
Suppose you're looking for an acoustic guitar with a rich history, traditional playability, and a classic look. In that case, the Epiphone Songmaker FT-100 may be the exact guitar you're looking for.
It has a slim C-shape solid mahogany neck that is comfortable to play and has a traditional feel that will never go out of style.
The downside of this guitar is the all-laminate construction creates a tone that isn't as vibrant and open as some of the solid-wood designs in this roundup.
Also, the neck could be too wide for players with smaller hands and children.
This guitar does come with a gig bag, strap, tuner, and picks, so it makes a great all-around package for a new adult guitar player.
If you're interested in learning more about the best Epiphone Guitars on the market, please refer to my article "The Best Epiphone Acoustic Guitars for all Budgets and Players"
Best for Kids
It's a great starter guitar for children
Your kid will love the way it looks
The guitar is well built and is easy to play for a guitar at this price
Lightweight and small, making it easy to carry and stowaway
The Oscar Schmidt OG1FYS is a 3/4 sized guitar that is perfect for the smaller hands of children around the ages of 5-10 years old.
This acoustic guitar is well built and plays easy for a guitar at this price. It also has a fun tiger-striped finish that kids will love.
While this guitar is recommended as the best acoustic guitar for kids, it has been popular with experienced guitar players as a traveling guitar that has a full-sized tone.
If you're looking for a reliable and playable first guitar for your kid, then the Oscar Schmidt OG1FYS-A-U will not disappoint.
Best for Travel
High-quality craftsmanship
Has a funky, non-traditional body shape that's light and compact
Considered one of the best traveling guitars on the market
The warm and woody sound is unmistakably Martin
Martin Guitars makes some of the best acoustic guitars in the world. Martin's are never cheap guitars, but what you pay for is a couple of centuries worth of high-quality craftsmanship and legendary tone.
Martin has developed a very odd-shaped guitar called the Steel String Backpacker that helps guitar players bring that outstanding Martin quality wherever they go.
The Martin Steel String Backpacker Guitar is a solid wood guitar with a funky, non-traditional body shape. It's super light and compact, so you can travel with it easily.
This is a great acoustic guitar for those who travel a lot, are obsessed with their guitar's tone, and don't want to skip out on their practice routine.
With the combination of both a warm and woody sound, it has that unmistakable Martin tone of their most valued vintage instruments while fitting into a suitcase or backpack with ease.
Suppose you identify as a traveling nomad or a busy businessman. In that case, the Steel String Backpacker is the best acoustic guitar for traveling!
If you're interested in learning more about the best Martin Guitars on the market, please refer to my article "The Best Martin Acoustic Guitars for the Tone-Obsessed Player"
Buying Guide
Finding the best cheap acoustic guitar may be difficult because they all have issues.
However, if you stick to the list of guitars I recommended above, you should be headed in the right direction. In fact, there are other guitars from those manufactures that fit within the sub $300 range that are also worth checking out.
So if you want to do a little more digging and research, the following buyer's guide will help you decide what the best acoustic guitar will be for you.
Body Style
When shopping for budget guitars, you won't often find a wide variety of body shapes. Generally speaking, most guitars will fall into the traditional dreadnought guitar style.
However, you can sometimes find guitars that have alternative body styles. So understanding how they affect the sound of a guitar will help you determine if it is the right body choice for the tone you're going after.
Parlor
A parlor guitar has a beautiful, woody, and punchy sound. Modern-day parlor guitars can be surprisingly well balanced and ideal for fingerstyle guitar playing and recording artists.
They also have a lot of mojo, but because they don't project as well as bigger-bodied acoustic guitars, you'll need to install a pickup if you want to perform live.
The Gretsch Jim Dandy (our editor's choice) is a parlor-sized guitar.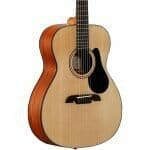 Grand Concert
A Grand Concert body shape is ideal for singer-songwriters and solo players. This is because it produces a more intimate and articulate tone.
Because these guitars don't have the same projecting power as a dreadnought, they won't overpower your voice when singing.
They're also fantastic for fingerstyle guitarists and lighter strummers. The smaller, pinch-waist design responds quickly and requires little effort to make the instrument sing.
The Alvarez AF30 is a grand concert body style.
Grand Auditorium
Made famous by Taylor Guitars, the Grand Auditorium body design is the most flexible and popular body style for modern guitars.
These bodies frequently include a cutaway to provide quick access to higher frets for more contemporary/advanced playing techniques.
Grand Auditoriums are very pleasant and comfortable to play because of their smaller waist design.
You can also expect more volume and projection with this body size than a Grand Concert design.
The only guitar on our list similar to a Grand Auditorium is the Yamaha APX600. However, this isn't a true Grand Auditorium because of the shallow, thinline body style.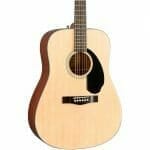 Dreadnought
A dreadnought acoustic guitar has a large, projecting tone. Because of dreadnought's capacity to project over other loud instruments, they're ideal for bluegrass and country music.
While dreadnoughts often produce a bigger low-end sound than a smaller-bodied guitar, this extra boom will often "muddy" the mid-range. This can result in a loss of note articulation within chords and create an unbalanced tone.
The dreadnought body shape will be the most common when shopping for an affordable instrument.
Jumbo
The Jumbo guitar is a dreadnought on steroids. It's a large-bodied acoustic guitar with a loud, projecting sound ideal for strummers with a heavy hand.
The Jumbo's distinctiveness stems from its smaller waist. This produces a more balanced and clear tone that allows each note in a chord to stand out, unlike a dreadnought.
The bigger-bodied design does require a hard strumming to get the most out of the guitar's sound. This might make it less fun to play for new players or those with smaller hands.
The Jasmine S34C is a jumbo body style.
Electronics
The simple fact is that cheap guitars in the $300 and less range will not come equipped with electronics.
However, the Yamaha APX600 on our list does come with electronics. Still, technically after you pay tax, you would be paying over $300.
Just remember that if a guitar you are looking at does include electronics at this price range, the quality probably won't be that good in either electronics or in the build of the actual guitar.
Beginner Packages
Many cheap acoustic guitars come as a bundle with a gig bag, strings, strap, picks, and sometimes some instructional lessons.
This is usually an excellent value for a beginner guitar player, and they also make great gifts. It gives the player everything they need to get started and is often how most beginners begin their playing journey.
However, know that guitars will come with a gig bag already included in the price.
So even if the guitar you're researching doesn't have a bundle deal, it's always worth double-checking to see whether it includes a gig bag because it likely does.
Scale Length
The scale length of an acoustic guitar is the measurement from the bridge nut to the 12th fret of the guitar doubled.
To make it simple, anything over 25" is a full-scale guitar.
These are what most acoustic guitars are. However, the longer length creates more string tension, making playing the guitar harder for new players.
This is why I would suggest looking for a short-scale guitar. This would be anything between 24" and 25".
There is less string tension, making the strings feel more "slinky." These are generally easier to play and more comfortable for new players.
The Gretsch Jim Dandy is a very short-scale acoustic with these playing characteristics.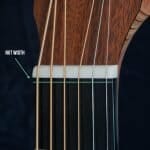 Nut Width
The distance between the fretboard edge and strings at the headstock is known as the nut width.
Typcal nut widths are:
Small: 1.61 inches (1 11/18")
Average: 1.73 inches ( 1 3/4")
Large: 1.875 inches (1 7/8")
Considerider a guitar in the average or small range if you new to guitar.
If you have big hands, choose something in the middle of the road; go for something smaller if you have small hands.
Tonewood
Tonewoods have a significant influence on your musical instrument's sound, playability, and value.
By far, the most crucial tonewood is the soundboard or the top of the guitar.
When looking for the best acoustic guitars under $300, you will most likely come across three different types of wood for the soundboard. These are spruce, mahogany, and laminate.
Spruce
Spruce is an excellent tonewood since it has a lot of sonic versatility. It works for all sorts of players, from light fingerpickers to heavy-handed strummers.
Spruce can benefit many playing styles and genres, including country, blues, pop, jazz, and rock and roll.
Spruce is the most frequently used tonewood in acoustic guitar design, and it's an excellent choice for a traditional-sounding acoustic guitar.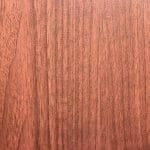 Mahogany
The warmth and depth that a solid mahogany guitar produces are well-known to folk, blues, and indie music players.
Fingerpicking on a solid mahogany top guitar is fantastic because the wood responds well to a light touch and gives the guitar plenty of sustain.
Mahogany has several advantages when used as a top wood. One of them is that it naturally compresses the guitar's tone. This can help new players sound better by making their playing sound more even.
It's also more durable than spruce.
Laminate
In more budget-friendly guitars, laminated wood will be used to build the guitar. Laminate is usually made out of many pieces of wood glued together to create the look of solid wood.
Laminates can also be produced from resins and other non-wood materials.
Laminates are generally considered inferior to a solid wood design and usually have less depth in their tonality.
However, laminated guitars may appeal to even advanced musicians in certain situations. Laminate is more durable and less prone to warping and cracking due to temperature changes than solid wood.
Because of this, laminated guitars are often a better option for traveling and for people who live in regions where the climate goes through extreme changes.
You will not find an all solid wood design in the $300 or less category of guitars except in travel guitars like the Martin Steel String Backpacker.
FAQ
What are common problems with a cheap acoustic guitar?
The most common problems with cheap acoustic guitars are:
High action (space between the string and fretboard)
Intonation Issues (sounds out of tune even when you are in tune)
Poor materials (plastic nuts, laminated woods)
Poor construction (sharp frets, blemishes, inconsistent builds)
Fret Buzz
Poor sound quality
How can you make your cheap acoustic guitar play better?
The best way to make your cheap acoustic guitar play better is to get it set up by a professional.
Most likely, someone at a guitar shop in your area can do this for you, and it will significantly improve all aspects of your guitar.
If you want to go the extra mile, you can also replace parts of the guitar with higher-quality pieces. Common things to replace would be the tuning machines, the guitar nut, and the bridge nut.
However, the expense of doing this might not be worth it for guitars under $300 and you might want to consider pushing your budget up to $500.
To Recap
The Gretsch Guitars Jim Dandy is my #1 pick for the best cheap guitar.
Suppose you are a beginner (or even an experienced player) that wants a super unique, fun, and comfortable guitar for less than $300. In that case, this one will not disappoint you.
For Beginners
Fender CD-60S Mahogany
The guitar has a rich, warm, and inviting sound
Mahogany evens out your playing and helps you sound like a more polished player
The guitar is durable and well made
You get a lot of extra goodies for the price
Editor's Choice
Gretsch Jim Dandy
It's easy to play and has a warm tone
You can practice without annoying others
It's the perfect size to learn on or take with you when traveling
It's a blast to play
For Budget
Jasmine S34C NEX
Get an excellent guitar without breaking the bank
The neck is comfortable to play, and the guitar sounds good
Jumbo body with cutaway allows for more advanced playing styles
The tone of the guitar is clear and bright