For Recording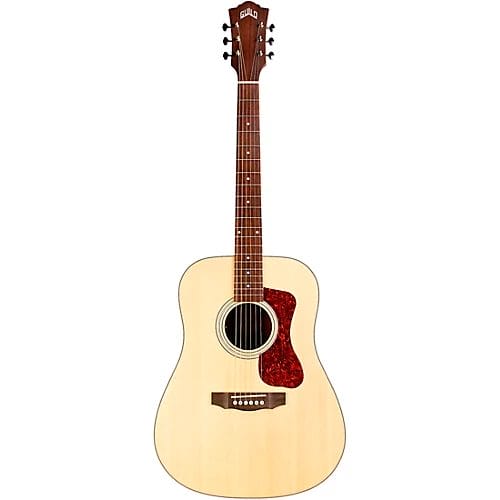 Guild D-240e
You'll be able to create beautiful recordings with the Guild D-240e
It's incredibly adaptable and will work well with a wide range of playing techniques, from strumming to fingerstyle performances
The pickups are surprisingly good for the price range
Guild creates classic guitars that will never go out of style
Editor's Choice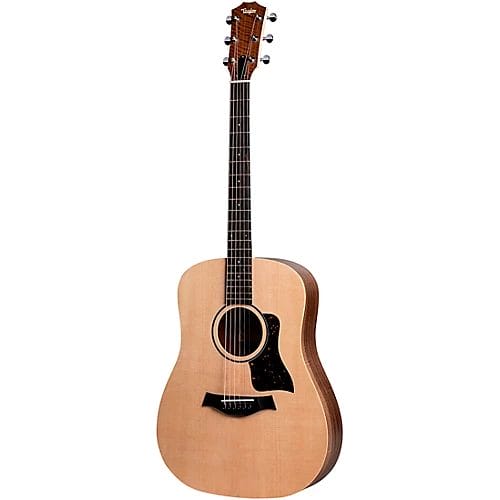 Taylor Big Baby Taylor
It sounds great, looks good, and is a joy to play
Modern and balanced tone with glassy high-end response
You'll be impressed with the high-quality construction
Great guitar for all playing styles and skills levels
For Strummers
Epiphone Hummingbird Studio
The dreadnought body style gives the guitar a big, bold, and projecting sound
Easier to play for beginners and those with smaller hands
The high-end is slightly "rolled off" for a vintage-inspired tone
The Hummingbird is a beautiful guitar that oozes character and tone
What's the best acoustic guitar under $500 for you?
There are a lot of bad acoustic guitars out there.
You don't want to get stuck with a low-quality instrument that will make you hate playing guitar or, even worse, discourage you from learning altogether.
When you're looking for the best budget guitar, it can often be intimidating with all the options and create anxiety around which one will suit you best.
However, you're in the right place!
I've found the best acoustic guitars under $500 for every style and budget, so you can quickly learn to play without breaking the bank or your fingers.
For those who are short on time, I've concluded that Taylor's Big Baby Taylor is the best option for most people.
However, there are plenty of other great options so let's begin!
Editor's note: We will choose guitars that are in the $300 to $500 price range. Please refer to my article here if you want to find the best guitars under $300.
The Best Acoustic Guitars Under $500 in 2022 at a Glance
Editor's Choice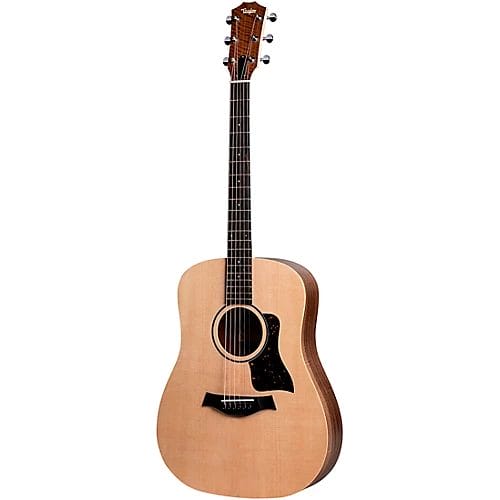 The tone of the guitar is modern, rich, and glassy
The guitar is a good fit for many playing styles and skill levels
It's a perfect travel companion for those who are on the go
Very comfortable and easy to play
Taylor Guitars Big Baby Taylor is the big brother of the best-selling Baby Taylor. It's a full-length, shrunken dreadnought acoustic guitar.
It's technically part of Taylor's travel guitars, but it plays and sounds like a full-sized guitar.
This guitar features a solid Sitka spruce top and layered walnut back and sides. The resonance on this guitar and depth of tone is surprising for a guitar of this size and price.
The first thing that I noticed after hearing this guitar strummed was how well balanced all the strings are and the modern and glassy sheen of the high-end.
Often with other guitars in the <$500 price range, the tone can be unbalanced and boxy sounding. This isn't the case with the Big Baby Taylor.
The guitar is extremely comfortable in arm with a shallow body depth. The ebony fretboard makes for that classic "buttery" playability for the fretting hand.
The Big Baby Taylor can be purchased with electronics; however, the guitar price would be over $500 (check price here).
This guitar is an excellent purchase for a wide range of guitar players, such as:
Kids or people with smaller frames
Intermediate to advanced players looking for a great travel guitar
A step-up guitar for those wanting a better sounding guitar without breaking the bank
Overall, the Taylor Big Baby is a great acoustic guitar for most playing styles and skill levels. With its high-quality construction, beautiful and balanced sound, and easy playability, you won't be disappointed in purchasing this guitar.
For an in-depth look at what Taylor Acoustic Guitars has to offer, please read my article "The Best Taylor Acoustic Guitars For All Styles and Budgets"
Best Value for Money

This guitar has every feature a modern guitar player needs
Comes with electronics, a built-in tuner, and a hardshell case
The solid spruce top with scalloped X-bracing has excellent resonance and tone
An expressive guitar that will allow you to play your favorite songs with ease
Fender is the world's largest guitar manufacturer. Although Fender is most famous for its electric guitars, Fender's acoustic guitars are quickly becoming known as some of the best beginner and intermediate guitars on the market.
The Fender CD-140SCE is a well-built, beautiful all-rounder dreadnought acoustic-electric guitar. It features electronics for amplification and includes a hardshell case (this is rare for this price point!).
This guitar features a solid spruce top, scalloped X-bracing, and laminated Ovangkol back and sides.
Although solid wood soundboards are not durable as laminated tops, they offer better dynamics and a richer tone. The scalloped X-bracing will increase the guitar's flexibility and resonance, resulting in longer note sustain.
This acoustic guitar also features modern design elements like nubone nut and saddle, which will help with the intonation and tuning of the guitar. While the cutaway allows for easier access to the upper frets when playing.
Fender also designed the neck to be easy to play for inexperienced players with a slightly shorter-scale neck (25.3") and narrower nut width (1.692").
This means practically for you as a potential buyer is there will be less string tension making it easier to fret and pick. The narrower nut will also make it more comfortable for people with smaller hands.
The CD-140SCE comes with Fishman electronics and an onboard tuner, so you will be able to plugin quickly and play at your local coffee shop or venue.
While this isn't the best-sounding guitar on the list, and it isn't the move "vibey," it is the most practical guitar option for under $500.
All in all, the Fender CD-140SCE is a well-built, great-sounding, easy-to-play acoustic guitar that comes with electronics and a hardshell case.
You can't go wrong.
For an in-depth look at what Fender Acoustic Guitars has to offer, please read my article "The Ultimate Guide to the Best Fender Acoustic Guitars"
Best for Budget
Solid Sitka spruce top with scalloped bracing is rare for a guitar at this price point
It's an acoustic guitar that will grow with you as your skills progress
The neck design on this guitar is perfect for beginners
It's a beautiful, traditional guitar with an understated elegance
Suppose you're a beginner guitar player looking for a well-crafted, solid-sounding guitar. In that case, the Yamaha FG830 is a great choice.
This affordable acoustic guitar features a solid Sitka spruce top with scalloped bracing that is rare to find for this price point.
Solid wood has a deeper tone, better dynamic range, and will sound better as the guitar ages.
What makes this such an excellent guitar for beginners is the neck design. The neck has a shallow tapering radius, narrower nut-width (1.68"), and a satin finish.
What does this mean for you as a player? Your hand will quickly move up and down the neck without feeling "sticky," it won't feel bulky, and playing open chords will take less stretching of your fingers.
This guitar is very playable and will allow new players to grow in their skills without being held back by sound or design. In fact, you can develop as a player with this guitar into an intermediate player before wanting/needing to upgrade to a more high-end acoustic guitar.
Also, there are excellent design elements on the Yamaha FG830, like the abalone rosette and cream binding that gives the guitar an elegant and classic look.
Although the construction of this guitar is better than most others in the $300-$400 price range, the downsides are that the tone sounds flat compared to some of the others on this list. Also, the factory setup leaves a little to be desired.
All in all, the Yamaha FG830 is one of the best acoustic guitars under $500, and you won't be disappointed if you're looking for your first "real" guitar.
For an in-depth look at what Yamaha Acoustic Guitars has to offer, please read my article "The Best Yamaha Acoustic Guitar for All Skill Levels and Playing Styles"
Best for Recording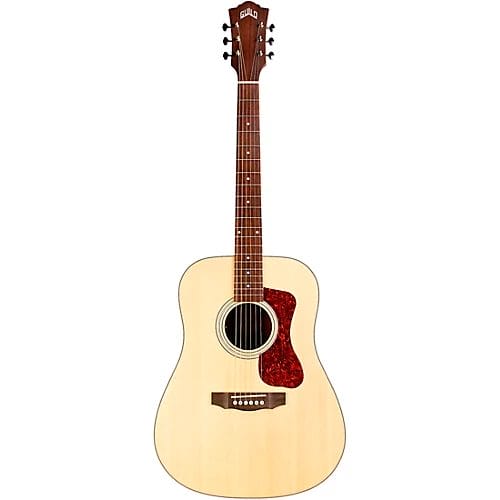 This guitar has excellent projection and sustain
It is very versatile and will sound great strummed or played fingerstyle
You'll be able to get a great recording with your guitar easily
Has a classic look that will never go out of style
The Guild D-240 is one of the best-sounding acoustic guitars on this list. For that reason, It's a beautiful guitar to record with.
Guild has built a guitar with a solid Sitka spruce top with a scalloped X-bracing and arched mahogany back. This combination produces an acoustic that has excellent projection and sustain. Chords are surprisingly balanced on the Guild D-240e, and the low-end is tight and focused.
This acoustic guitar is also very versatile and will perform well whether you're strumming or playing fingerstyle.
Some challenges of home recording are ambient noises and proper mic placement. The Guild D-240e comes equipped with AP-1 Piezo pickups so you can plug in directly to your audio interface to record your guitar.
While you won't get the full tone the acoustic guitar produces by plugging indirectly, these electronics are surprisingly good for the price range.
While piezo pickups often have a "quacky" sound, I found these pickups to be reasonably balanced and accurate to the guitar's sound.
Even though I'm recommending this as the best acoustic for recording, it also is a beautiful gigging guitar for the reasons stated previously.
On top of these remarkable qualities, this guitar looks fantastic. The natural satin finish with tortoise pickguard gives it a classic look that will never go out of style.
Suppose you're looking for an acoustic guitar with a rich, balanced tone and outstanding construction that records well. In that case, the Guild D-240e won't disappoint!
Best for Gigging
The guitar is durable and can withstand the rigors of travel
An acoustic guitar that plays like an electric guitar
The neck is fast, comfortable, and great for alternative playing styles like tapping and lead lines
Slim design eliminates onstage feedback
Suppose you're primarily an electric guitar player and looking for one of the best acoustic guitars under $500 to transition to the stage with. In that case, the Ibanez AEWC32FM is the instrument for you!
Ibanez is a brand that is known for the electric guitars that shred. They have brought this design aesthetic and alternative playability into the AEWC32FM with its skinny body, slightly shorter scale length, and fast-playing neck.
The guitar also features larger frets than most acoustic guitars on this list, making the playability great for alternative styles, lead lines, and tapping.
The body construction is laminated Flamed Maple and laminated Sapele back and sides. Often laminated construction is thought of as inferior to a solid wood design. However, laminated guitars are a lot more durable. This is actually a positive for a guitar you travel and gig with.
In addition, most of the guitar's mojo and character comes from having it plugged in through its Fishman Sonicore pickup system. You aren't relying on the natural resonance as much, so the laminated construction does not deter from the sound/playability of this acoustic-electric guitar.
However, because of all these factors mentioned, this is not the best acoustic for a rich, full tone that other acoustic guitars offer on this list have.
All in all, if you're searching for an alternative, fast-playing acoustic guitar for live performances, the Ibanez AEWC32FM should be on your shortlist!
For an in-depth look at what Ibanez Acoustic Guitars has to offer, please read my article "The Best Ibanez Acoustic Guitars for the Alternative Musician"
Best for Fingerstyle
Parlor shape gives the guitar a worn-in, intimate sound that is fun to play
Mahogany construction naturally compresses sound making your playing more even
Lighter string tension is great for fingerstyle players, beginners, and those with arthritis
Vintage-inspired guitar with modern, forward-thinking design elements
A great fingerstyle guitar should be expressive, intimate, and hit you in the heart with its tone.
The Alvarez AP66 ticks all of these boxes. It features a solid mahogany top and laminated mahogany back and sides. This combination of woods creates a warm, rich, and woody sound with minimal overtones.
These tonewoods, along with the parlor shape, give the guitar a worn-in, intimate sound that is perfect for playing by a campfire or lounging around on your couch.
This small body acoustic guitar also features hand-shaven, forward-shifted scalloped bracing, which allows the soundboard to resonate more freely. This makes the guitar sing with a lighter touch and less input from you as a guitar player.
The 12-fret construction with the extremely short-scale (24") reduces string tension and gives the guitar a "slinky" playability. This not only makes it an excellent guitar for fingerstyle players but also beginning players and those who have arthritis in their hands.
This acoustic guitar can be purchased with electronics; however, this would put the guitar above our $500 threshold.
Another drawback to the Alvarez AP66 compared to other acoustic guitars on this list is its particular sound. It's very vintage, vibey, and organic. This makes the guitar not an excellent choice for players looking for versatility and an "all-rounder guitar."
However, suppose you're looking for the best acoustic guitar with fantastic playability, an intimate vibe, and excellent construction. In that case, the AP66 will exceed your expectations for a guitar at this price point.
To discover some other great fingerstyle guitars, check out my article "The Best Fingerstyle Guitars for Acoustic Players and Songwriters" today!
Best for Flatpicking and Strumming
Get the classic Hummingbird look and sound for an affordable price
Big, bold, and projecting tone
The solid spruce top will open up and sound better with age
Shorter scale than other dreadnoughts making it great for beginners and those with smaller hands
Sometimes you're looking for a guitar that isn't subtle and oozes character and vintage tone. Well, Epiphone has you covered with the replica of one of Gibson Acoustic Guitars' most famous models, the Hummingbird.
The Epiphone Hummingbird simply looks beautiful. With its classic hummingbird pickguard, split parallelogram fret inlays, solid spruce top with cherry sunburst, and mahogany back and sides.
The square-shouldered dreadnought body style emphasizes the low-end and midrange giving the guitar a big, bold, and projecting tone. The high-end rolls off and has a vintage tone characteristic of the Gibson/Epiphone line of musical instruments.
The Hummingbird Studio also features a slightly shorter scale length (24.75") and narrower bridge nut width (1.683"), which makes this dreadnought guitar easier to play for beginners and those with smaller hands.
While the mahogany neck has a radius of (12") which can feel slightly bulky for some players, it does taper as you move up the neck thanks to the Slim Taper D-shaped neck design.
There is also a Fishman Piezo pickup included with this guitar, so you will be able to plug in and play and bring the classic Epiphone look to your next gig. Fishman is an excellent brand of electronics and pickups. However, this pickup does suffer a bit from the classic piezo "quack" that happens with some lower-end acoustic-electric guitar models.
All in all, if you're looking for a guitar that looks beautiful, and can handle some heavy strumming and project across a room, then the Epiphone Hummingbird Studio is a guitar that won't disappoint!
For an in-depth look at what Epiphone Acoustic Guitars has to offer, please read my article "The Best Epiphone Acoustic Guitars for all Budgets and Players"
Best for Kids
It's the perfect sized acoustic for kids to learn on
The high-pressure laminate construction is durable and will survive minor hits and scratches
It's a high-quality instrument from a manufacture that has been around for 200 years
The small body isn't as loud and allows practice without bothering anyone else in the house
While it may be more popular as a travel guitar, the Martin LXK2 Little Martin Koa is an excellent guitar for kids to learn on as well.
Koa looks great, and the high-pressure laminate construction makes the guitar extremely durable. So when your kid inevitably drops it or hits it against the corner of a door, it is likely to survive to see another day.
Also, Martin is known for creating high-quality instruments that sound great. The Little Martin Koa is no exception and carries almost two centuries of Martin expertise into the design.
Another plus of the Little Martin Koa is thanks to its smaller design, it won't project as loudly. So as your little one is learning, you don't have to worry about hearing them practice the same thing over and over again if they are in another room.
If you're looking for a beautiful guitar that your kids will have an easy time playing, it isn't an eyesore and is very durable, then the Martin LXK2 Little Martin Koa is a great choice to go with!
For an in-depth look at what Martin Acoustic Guitars has to offer, please read my article "The Best Martin Acoustic Guitars for the Tone-Obsessed Player"
Buyers Guide
I'm confident that most players will find a great guitar from one of the recommendations on my list.
Still, I don't want to discourage readers from doing their own research because numerous companies make quality budget acoustic instruments worth checking out.
I've put up a list of criteria and factors to assist you in your research so that you can make an educated decision based on your specific needs as a guitar player.
Body Shape
When looking for an acoustic guitar, the first thing to consider is the body style.
While the dreadnought body shape is the most popular among budget guitars, you may find alternative body shapes that are better suited to your needs.
Here's a quick breakdown of the most common you will find:
Parlor: Woody and vintage charm. Great for blues and rustic folk/country musicians
Concert (0): Great for fingerstyle and intimate performances
Grand Concert (00): Ideal for recording with its well-balanced, articulate tone
Grand Auditorium (000): The most versatile body style that does all things well
Dreadnought: Loud, projecting tone. Has a big low-end and can cut through a dense mix
Jumbo: Big, boisterous, and well-balanced. This body style is built to perform
There are many different body types available on the market, but they typically alter one of these basic shapes.
Grand Concert (00) Body
Tonewood
Tonewoods have a significant impact on your musical instrument's sound, playability, and price.
The most critical tonewood will be the soundboard (top wood) of your instrument. Most guitars in the $300-$500 price range will begin to offer solid tops.
Solid tonewood resonates better and will sound better with age. The two most common top woods you will find in this price range are:
Solid spruce is the most popular tonewood for acoustic construction. It has a tremendous dynamic range and is balanced and very articulate.
Solid mahogany has a more worn-in and vintage vibe to it. It tends to be more midrange-focused and not as dynamic and bright as spruce.
Laminates
The use of laminate construction for the back and sides of a guitar is pretty much a certainty with budget guitars.
Laminate is cheaper to build with than solid tonewood.
It is often considered inferior in terms of resonance and depth of sound.
However, laminate is more durable than solid wood. It is an excellent option for people who travel with their guitars and players who live in areas with lots of weather changes.
One of the issues with solid tonewood is that it can easily crack and warp with humidity change. So a laminated construction is an excellent way to go if you leave your guitar out on a stand or wall mount and don't want to worry about maintenance.
Electronics and Pickup System
As you get into acoustic guitars in the $300 to $500 range, you will see a lot more equipped with electronics and pickups for plugging in directly to an audio interface, PA system, or amp.
However, most pickup systems at this price range aren't going to be great. They will have that unflattering and thin "quacky" sound often associated with bad plugged-in acoustic instruments.
Not all electronics are bad, and the guitars on my list that come with electronics often are better than average.
It's good to know that if you find a guitar without electronics in this price range, you often are going to get a guitar that punches well above its weight.
Scale Length
If you take the measurement from the bridge nut to the twelfth fret and double it, you will get the guitar's scale length.
But you might be wondering, why does scale length matter?
Scale length can change the string tension and tonality of a guitar. A shorter scale creates less string tension, making the guitar have a more "slinky" playability.
Anything greater than 25 inches in scale length is a full-scale guitar.
Full-scale is the most common scale length for acoustic guitars, and there is nothing wrong with it. Just be aware that if you are a beginner or someone with arthritis in your hands, a shorter-scale length (between 24" and 25") will be much easier for you to play.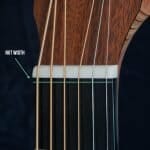 Nut Width
Nut width is the neck measurement where the headstock and fingerboard meet.
Standard nut widths are:
Small: 1.61 inches (1 11/18")
Average: 1.73 inches ( 1 3/4")
Large: 1.875 inches (1 7/8")
If you're a beginner or have small hands, look for a guitar with a small to medium nut width.
If you have big hands or want to play more fingerstyle, go with a medium to large nut width.
Neck Radius
The neck radius of a guitar impacts how comfortable a guitar feels in your hand.
A thicker 7″-9″ neck radius might feel more comfortable for chord playing but not as pleasant for scale playing.
On the other hand, a larger 16″ neck radius will feel more like an electric guitar neck and allow you to "shred" your instrument with greater ease.
Most of the guitars on my list are designed with the beginner to intermediate player in mind. Often manufactures will choose a neck profile that isn't super bulky and comfortable for a wide range of beginner to intermediate players.
Gig Bag
You would think that every guitar would come with some sort of gig bag or case. This, however, isn't always true.
You should always have some sort of gig bag to store your instrument in. So double-check that the guitar you are looking at purchasing comes with one, or you might be spending extra to get one.
FAQ
The most common questions about the best acoustic guitars under $500.
Are cheap acoustic guitars bad?
No, cheap acoustics guitars are not bad. Acoustic guitar manufacturing has grown leaps and bounds over the years thanks to CNC Machines.
You can get very high-quality constructed guitars that are very affordable and will last a long time.
However, this doesn't mean that every budget guitar is a great deal. You have to make sure you buy from a guitar brand with a good reputation for making good guitars at an affordable price.
What are some common issues with a cheap acoustic guitar?
The common issue with a cheaper acoustic guitar is high action, guitar blemishes, rough edges on the fretboard, intonation problems, and low-quality build materials.
These are common problems; however, they can be remedied by getting your new acoustic guitar set up professionally after purchase.
Yes, this is an additional cost, but it will make your guitar-playing experience much better.
What's the best acoustic guitar under 500 dollars that features solid wood?
The best acoustic guitars under $500 that feature solid wood depend on the player's needs. Many affordable acoustic guitars come with a solid top. Still, it's challenging to find a guitar that features a solid wood back and sides.
The two solid tonewoods you will generally find on a less-expensive guitar are spruce or mahogany. Spruce has a wider dynamic range with more overtones. On the other hand, mahogany has a more compressed, mid-range tone with few overtones.
To beginner guitar players, you have to use your ear to know which you prefer.
To Recap
Your guitar is an investment. It should serve you well for years to come and inspire you every time you pick it up. You deserve a high-quality instrument that will last many years of playing.
For that reason, my choice for the best acoustic guitar under $500 is the Big Baby Taylor.
Go check it out today on Amazon!
For Recording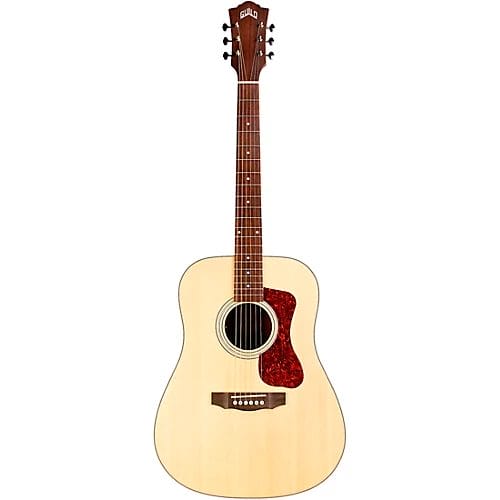 Guild D-240e
You'll be able to create beautiful recordings with the Guild D-240e
It's incredibly adaptable and will work well with a wide range of playing techniques, from strumming to fingerstyle performances
The pickups are surprisingly good for the price range
Guild creates classic guitars that will never go out of style
Editor's Choice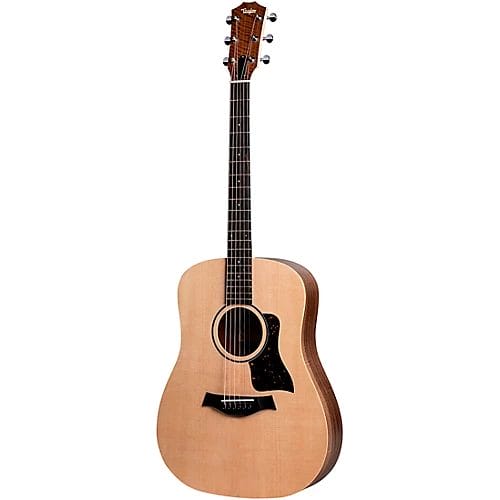 Taylor Big Baby Taylor
It sounds great, looks good, and is a joy to play
Modern and balanced tone with glassy high-end response
You'll be impressed with the high-quality construction
Great guitar for all playing styles and skills levels
For Strummers
Epiphone Hummingbird Studio
The dreadnought body style gives the guitar a big, bold, and projecting sound
Easier to play for beginners and those with smaller hands
The high-end is slightly "rolled off" for a vintage-inspired tone
The Hummingbird is a beautiful guitar that oozes character and tone